Posted in Science on June 15 2013, by Anthony Kirchgessner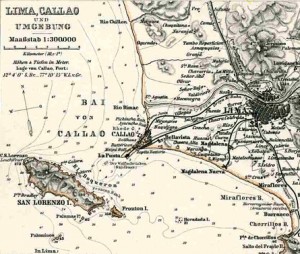 Now in week three, Henry Hurd Rusby's Mulford Expedition arrives in Peru after passing through the Panama Canal. Anchoring in Callao, several of the expedition's number travel on to Lima as guests of the Peruvian leadership. Gathering medicines, touring the capital, and meeting with newspaper representatives are the orders of the day, yet the trials of surviving abroad play out even in the relative safety of urban Peru.
Reboarding the Santa Elisa, the expedition steams southeast to Mollendo where the competitive business of hotel porterage and questionable exchange rates preface the expedition's journey into higher altitudes. There Rusby's talents as a botanist are finally put to use identifying cacti, mountain trees, and local vegetables on the road to Arequipa.