Posted in Adult Education on May 3 2018, by Joyce Newman
Joyce H. Newman is an environmental journalist and teacher. She holds a Certificate in Horticulture from The New York Botanical Garden.
---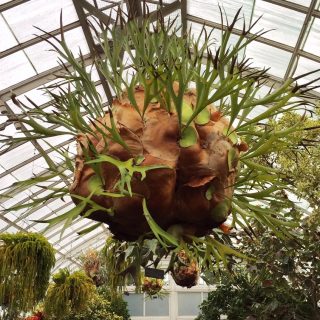 Staghorn ferns make a dramatic addition to any indoor plant collection. Botanically, they are epiphytes—plants that thrive while hanging onto threes or hanging in mossy baskets. In tropical environments and in NYBG's Conservatory, mature staghorn ferns (Platycerium bifurcatum) look awesome with their huge, tan-colored, shield-like plates and green fronds shaped like antlers. The plates cover fairly shallow root balls that cling to tree trunks or other mossy homes.
The plants get their nutrients from the trees or moss they grow on and absorb water through their fronds. Like other ferns, the staghorn variety is among the most ancient of plants. (There are an estimated 10,500 fern species, according to the American Fern Society, some dating back tens of thousands of years.) The staghorn ferns are found from the Philippines and Australia to Madagascar, Africa, and South America. Ferns do not produce flowers, but are able to reproduce by sending very tiny spores into the air. The spores form on the underside of the fertile fronds.