Registration is Open for Summer Intensives!
Looking to start a new career? Jump on the fast-track this summer with intensive programs in Floral Design, Landscape Design, Gardening, Horticultural Therapy, and Botanical Art & Illustration. Learn more.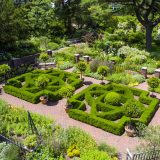 Growing a Culinary Herb Garden
with Leda Meredith
Spice up your garden with your own home-grown culinary herbs. Get started right by learning how to grow for flavor, when to harvest at peak, and how to preserve and serve up your bounty in tasty, unexpected ways.