Spring and Summer Classes Are Now Online!
Welcome to another season of NYBG Adult Education. Beginners and advanced students alike can enjoy classes in Design, Art, Gardening, our new Food & Drink section, and more!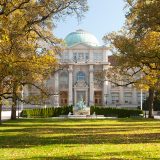 Lectures & Symposia
Each year, NYBG welcomes landscape architects, garden designers, and internationally recognized speakers to our stage for enriching talks on their fields and studies. Plan your year with our lineup of 2019 lectures and symposia.