The Spring–Summer Catalog is Here!
Our next season of classes are now available online and ready for registration! Whether you're ready to get started on a certificate for the first time, or just looking to take a class for fun, NYBG has exactly what you're looking for. Browse classes by subject, below.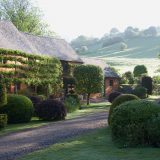 18th Annual Winter Lecture Series: The Gardener's Garden
January 25, February 22, March 29; 10–11:30 a.m.
This year's series stays close to home—and heart—as three renowned garden designers, plantsmen, and environmental stewards take us inside their own personal gardens.