March and April classes and events scheduled to take place in person have been cancelled and registrants will be contacted via email.
Spring Classes Are Open!
Deepen your relationship with the natural world by taking classes at the New York Botanical Garden. From Floral Design to Gardening, Landscape Design, Botanical Art, and more, explore hundreds of classes to educate, inspire, and guide you.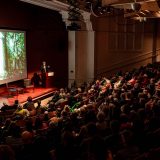 Lectures & Symposia
Each year, NYBG welcomes landscape architects, garden designers, and internationally recognized speakers to our stage for enriching talks centered around their field of work. Plan your year with our lineup of 2020 lectures and symposia.