Winter Term is Upon Us!
Our new season of classes is online and ready for registration! Beginners and Certificate students alike can enjoy classes in Gardening, Floral Design, Botanical Art, Landscape Design, and more. Whether you're ready to move into a certificate program for the very first time, or just looking to take a class for fun, NYBG has exactly what you're looking for! Browse classes by subject, below.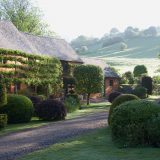 18th Annual Winter Lecture Series: The Gardener's Garden
January 25, February 22, March 29; 10–11:30 a.m.
This year's series stays close to home—and heart—as three renowned garden designers, plantsmen, and environmental stewards take us inside their own personal gardens.