The School of Professional Horticulture is accepting applications in advance of its August 1 deadline for a January 26, 2022 start date. Learn more.
---
Register Now for Summer Classes
Deepen your relationship with the natural world by taking classes at the New York Botanical Garden. From Floral Design to Gardening, Landscape Design, Botanical Art, and more, explore hundreds of classes to educate, inspire, and guide you.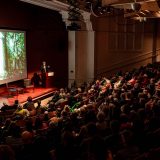 Lectures & Symposia
Each year, NYBG welcomes landscape architects, garden designers, and internationally recognized speakers for enriching talks centered around their field of work.