September 21–30, 2019
NYBG scientist and Amazonian expert Dr. Douglas Daly will be on the ground with local collaborators in Rondônia, the eye of the current firestorm in the Amazon Rain Forest. Follow along here for updates from the field.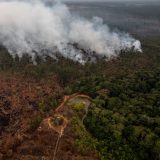 On the Ground in Brazil's Amazon Rain Forest
The devastating loss of forest to recent fires is displacing people and animals, negatively affecting air quality, changing rain patterns, and reducing the forest's capacity to clean our air. Dr. Douglas Daly recounts his efforts to document the important flora in this threatened region.
Record-setting fires continue to create an environmental crisis in Amazonian Brazil.  The loss of forest to these fires displaces people and animals, negatively effects air quality in the region, changes rain patterns on a continental scale, and reduces the forest's capacity to clean air for the planet. Rondônia is especially important because it is one of the most biodiverse areas of the Amazon with a wide range of habitat types and topography, but its flora is among the least documented. For many years, Dr. Daly has been leading a research project in the region, in partnership with the Federal University of Rondônia and state and national government agencies, investing in training, institution-building, scientific exchange, and of course, botanical exploration and collecting throughout the state.

As thousands of fires burn in Rondônia, the important work of Dr. Daly and his team of Brazilian collaborators is literally under fire. Given the urgency of the current crisis, they will travel to Rondônia—the eye of the firestorm—later this month to finalize a training project and collect and document plant specimens to complete field research on a set of key species.