From the Field: Bill Buck in Cape Horn, Day 2
Posted in Bill Buck, From the Field, Science on February 1 2012, by William R. Buck
January 18, 2012; Canal O'Brien, just south of Isla O'Brien, 54º55'S, 70º35'W
I first stepped out onto the deck of our ship around 5 a.m. today. The sun wasn't quite up and the mountainous islands were dark shapes against a gray, cloud-choked sky. I love early mornings alone with nature. Unfortunately I was dressed only in my sleeping clothes, so the light rain and cold quickly drove me back to my warm bunk.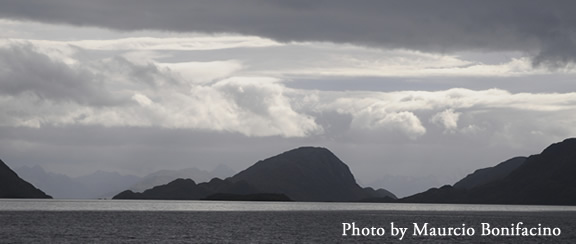 We have a different ship this year, the Don José Miguel. It is relatively new and belongs to the same owner as our ship last year, the Don José Pelegrín. It is about a meter wider than the Pelegrín, making it seem much more spacious. On the Pelegrín the bunks were narrower and lower; the roomier bunks on the Miguel allow me to turn over without bumping into the bunk above me. But although the bunk room has more space, there is no place to put luggage except under the lower bunks, an inconvenient process which requires the removing of mattresses and the slats. As a consequence, most of our luggage is piled in the middle of the room, providing an obstacle course, especially in the middle of the night.
But the real difference between this year's ship and last year's is that the Don José Miguel has a hot shower! After weeks of being unable to bathe on the Pelegrín, this is a real luxury. I'm looking forward to trying out the facility, but with 16 people sharing a single small bathroom, there is often a line outside the door. We were traveling all last night and since the seas were somewhat rough, it didn't seem prudent to bang around inside the small shower stall. Tonight we should anchor somewhere near the east end of Isla Gordon and if I can grab a slot, I'll give it a go.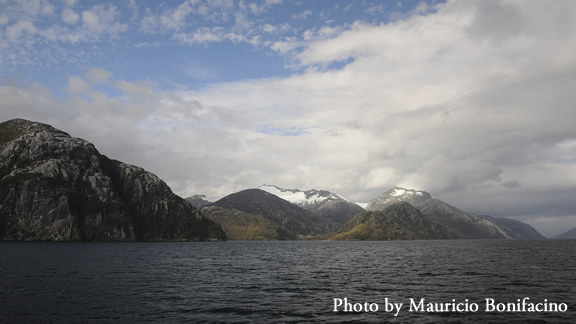 This morning was overcast with low clouds but it didn't dampen the enthusiasm of our group. Those with cameras were constantly clicking one landscape shot after another, all of which will surely look the same back home. Last year we were told that the sea lion population had crashed and we only saw a couple throughout the course of our entire trip. This morning, though, we spotted them over and over, fortunately indicating that last year was an anomaly. We also saw many penguins bobbing around in the sea, and, from time-to-time, dolphins would follow the ship. However, since we are a group of nine bryologists, and one flowering plant botanist, we're particularly excited to get into the field and see what gems await us. The animals are wonderful, but they're not what we are here for. Also, once we get into the field maybe we won't feel so self-conscious about wolfing down so much freshly made bread!
Like last year, one of my great joys is to see the faces of the newest scientists as they look on in awe and delight at the spectacular, ever-changing landscape. I hope, like last year, that everyone enjoys the trip and that no one is injured. Our projected field sites in the upcoming days include numerous glaciers and their associated icy waterfalls. Already Mauricio is running around like a kid in a candy store, with a constant grin on his face. Ricardo has read and dreamed of this area since he was a teenager; he is radiating excitement. Initially my biggest concern was Xiaolan; everything seemed to make her nervous. She wanted details about field sites we wouldn't know until we got there. She was nervous she would get seasick and when she should take appropriate medication. She fretted over the lack of privacy. Now, well into our second day she has begun to relax and smile. As a consequence, I too am able to relax more. I really want this to be an amazing field experience for everyone on our team and try to do what I can to make it so. I don't think I need to worry about our three female graduate students; Laura, Lily, and Manuela. All seem glad to be here, but possibly reluctant to appear too excited for fear they may seem inexperienced. I look forward to seeing them out in the field.
We have now been at sea for about 24 hours and we're all ready to do what we came for–head into the field and find our plants. We don't have long to wait now!
Ed. note: NYBG scientist and Mary Flagler Cary Curator of Botany, Bill Buck is currently on expedition to the islands off Cape Horn, the southernmost point in South America, to study mosses and lichens. Follow his journeys on Plant Talk.
Bill Buck's Previous Reports From the Field:
2012
January 17, 2012; Punta Arenas, Chile
2011
July 15, 2011; Hobart, Tasmania, Australia

July 14, 2011; Pyengana, Tasmania, Australia
July 13, 2011; Weldborough, Tasmania, Australia
July 12, 2011; Hobart, Tasmania, Australia
July 11, 2011; Hobart, Tasmania, Australia
February 8, 2011; Punta Arenas, Chile
February 5, 2011, unnamed sound northwest of Isla Georgiana
February 4, 2011, unnamed sound directly east of Seno Mama, Chile
February 2, 2011, Seno Courtenay, northern arm, Chile
February 1, 2011, Seno Courtenay, Chile
January 31, 2011, Canal between Isla Georgiana and Isla Clementina,, Chile
January 30, 2011, Unnamed sound on south side of Brecknock Peninsula, NW of Isla Georgiana, Chile
January 29, 2011, Isla Aguirre, Seno Quo Vadis, Chile
January 26, 2011, Punta Arenas, Chile
January 24, 2011, Seno Chasco, just north of isthmus to Brecknock Peninsula, Chile
January 23, 2011, Isla Grande de la Tierra del Fuego, Puerto Consuelo, Seno Chasco, Chile
January 22, 2011, Isla Grande de la Tierra del Fuego, Seno Brujo, Chile
January 21, 2011, Isla Grande de la Tierra del Fuego, Seno Brujo, Chile
January 20, 2011, Isla Grande de la Tierra del Fuego, Seno Bluff, Chile
January 18, 2011, Punta Arenas, Chile