From the Field: Bill Buck in Cape Horn, Day 5
Posted in Bill Buck, From the Field, Science on February 6 2012, by William R. Buck
January 21, 2012; Isla Hoste, Estero Fouque, 55º11'S, 69º35'W
I was wrong about everyone getting up early to go into the field today; late nights and early mornings are catching up to all of us. I have told myself that I will be in bed by 10 p.m. tonight, but we'll see.
Where we spent the night, at the extreme south end of Estero Fouque, is one of the most amazing places I have ever seen. From the ship's deck you can see at least five glaciers and in the fleeting moments when the sun comes out, the reflection off the glaciers is almost blinding.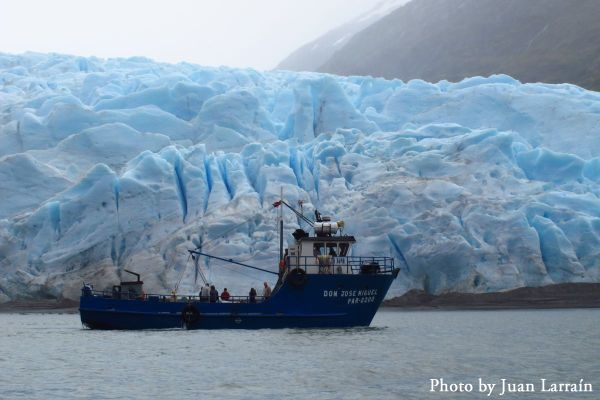 This morning, Mauricio set off early–on his own–so that he might reach a far-off peak. Normally, I would not like this, one person off on his own, but he took a walkie-talkie and is in regular contact with the captain. He will be picked up around 6 p.m. For my collecting today, I am taking the opposite extreme, heading toward the nearest glacier-fed stream.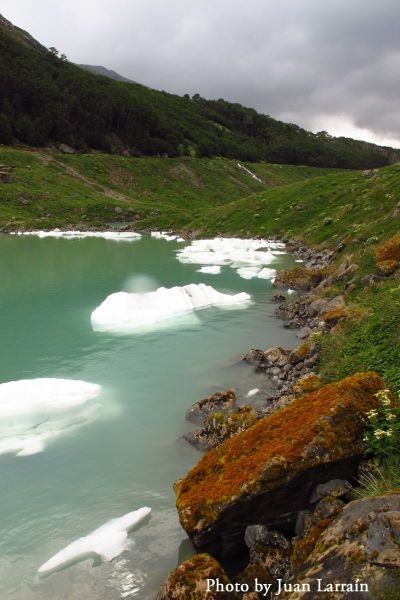 The stream runs through a boulder field. In the not-too-distant past, this area would have been where the glacier itself met the sea. From a distance, many of the boulders appear to be bright orange, and I am quite gratified that my guess has proven correct; this unusual color is due to a single moss, Acroschisma wilsonii. Although this moss covers many of the boulders, on the soil in and around the rocks there are many other mosses that otherwise characterize the alpine zone. Needless to say, I am delighted to have found these without the climb! After over two hours in this habitat, it was still over 45 minutes before the zodiac was scheduled to pick us up. However, the ship was close enough that I was able to signal that I wanted to be picked up early by waving my arms in my bright yellow rain gear. I wanted a little quiet time to catch up on my work and to be able to use a table without competition. I also wanted a chance to catch up on my blog.
While we were having lunch, the captain moved our ship north up the Estero Fouque to a location opposite Punta Blanco. The more ambitious members of our group headed for the base of a large cliff that was visible in the distance, but they were ultimately thwarted by a large, uncrossable river, so most of their afternoon was spent on a fruitless forced march. I chose to collect on a coastal, wind-pruned southern beech forest with a stream running through it and enjoyed the collecting and solitude.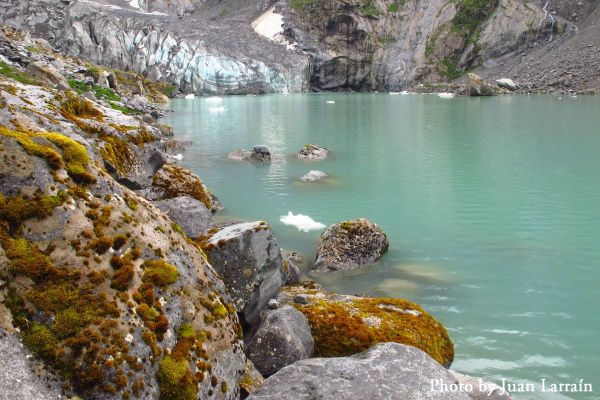 For those familiar with last year's blog, you will remember that weather was a near constant topic, yet this year I have scarcely mentioned it. The astral summer of 2012 is turning out to be quite an unusual year in the Cape Horn Archipelago; it is warmer, drier, and considerably less windy than 2011. It is still almost constantly overcast (miracles only go so far), but we have had only a little light rain and wind. Last year I wore five layers of clothing on top: a t-shirt, a long-sleeve cotton shirt, a wool sweater, a heavy cotton overshirt, and a rain coat. This year I have abandoned the sweater, but still find I am often too warm in the field. Part of this is due to the fact that instead of steady 40 mph (65 kph) winds (or stronger), we have mostly had just light breezes. Even the cold air drafts from the glaciers have not been that cold. I don't know if it will hold or not, but we certainly can't complain about the weather this year!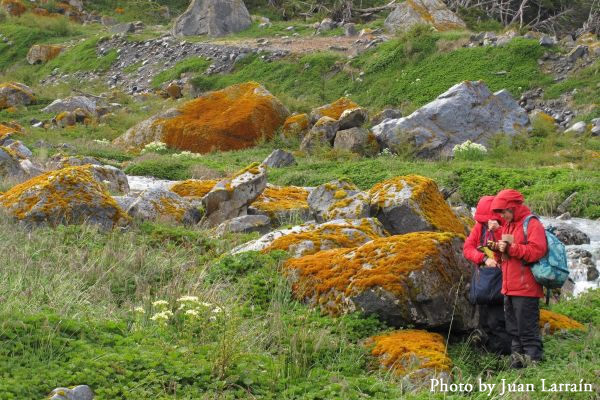 Today is Lily's 28th birthday. When I was compiling the information for the trip (I had to forward copies of everyone's passport to Chile), I noticed this. It reminded me of how nice it was when we had a surprise birthday party for Bruce Allen on the ship some years earlier. So, I contacted Ernesto, and he arranged the surprise. When I returned to ship this morning, a bit earlier than the rest of the group, I was welcomed by the smell of freshly baked chocolate cake, fresh out of the oven. By the time the others had arrived back on the ship, the aroma had dissipated and so the surprise was safe. It'll be fun tonight when we surprise Lily. (I'm still hoping for that 10 p.m. bedtime!)
Ed. note: NYBG scientist and Mary Flagler Cary Curator of Botany, Bill Buck is currently on expedition to the islands off Cape Horn, the southernmost point in South America, to study mosses and lichens. Follow his journeys on Plant Talk.
Bill Buck's Previous Reports From the Field:
2012
January 20, 2012; Isla Hoste, Estero Fouque, approximately 55º11'S, 69º35'W
January 19, 2012; Chile, unnamed sound on north-central coast of Isla Hoste, approximately 55º00'S, 69º12'W
January 18, 2012; Canal O'Brien, just south of Isla O'Brien, 54º55'S, 70º35'W
January 17, 2012; Punta Arenas, Chile
2011
July 15, 2011; Hobart, Tasmania, Australia
July 14, 2011; Pyengana, Tasmania, Australia
July 13, 2011; Weldborough, Tasmania, Australia
July 12, 2011; Hobart, Tasmania, Australia
July 11, 2011; Hobart, Tasmania, Australia
February 8, 2011; Punta Arenas, Chile
February 5, 2011, unnamed sound northwest of Isla Georgiana
February 4, 2011, unnamed sound directly east of Seno Mama, Chile
February 2, 2011, Seno Courtenay, northern arm, Chile
February 1, 2011, Seno Courtenay, Chile
January 31, 2011, Canal between Isla Georgiana and Isla Clementina,, Chile
January 30, 2011, Unnamed sound on south side of Brecknock Peninsula, NW of Isla Georgiana, Chile
January 29, 2011, Isla Aguirre, Seno Quo Vadis, Chile
January 26, 2011, Punta Arenas, Chile
January 24, 2011, Seno Chasco, just north of isthmus to Brecknock Peninsula, Chile
January 23, 2011, Isla Grande de la Tierra del Fuego, Puerto Consuelo, Seno Chasco, Chile
January 22, 2011, Isla Grande de la Tierra del Fuego, Seno Brujo, Chile
January 21, 2011, Isla Grande de la Tierra del Fuego, Seno Brujo, Chile
January 20, 2011, Isla Grande de la Tierra del Fuego, Seno Bluff, Chile
January 18, 2011, Punta Arenas, Chile