From the Field: Bill Buck in Cape Horn, Day 8
Posted in Bill Buck, From the Field, Science on February 9 2012, by William R. Buck
January 24, 2012; Unnamed sound off Isla Whittlebury, in Bahia San Jorge, west of Isla Hoste, approximately 55º16'S, 70º00'W
Before retiring for the evening last night I talked with the captain and told him that ideally tomorrow, we would like to get to one of the more exposed southern islands, Isla Waterman, and that he would have to decide–based on weather and sea conditions–if it would be possible in the morning. As a backup, I told him we would be quite happy collecting on Isla Whittlebury, off of which we were anchored for the night. This morning the engines started at 7 a.m., and almost everyone just stayed in their bunks for the ride. Because we were moving for about an hour, and we hit rough seas for about 20 minutes on the way (while crossing Seno Christmas), I realized that we would soon be arriving at our first choice, Isla Waterman.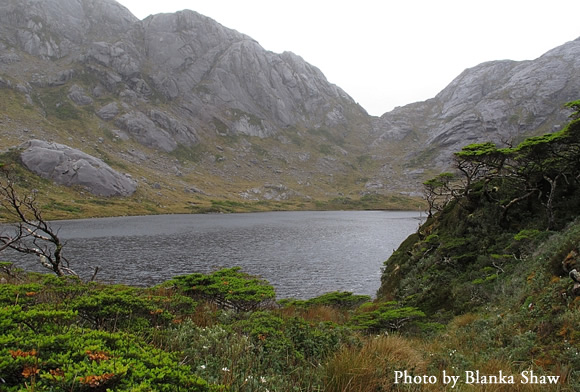 When we eventually left the warmth of our bunks and ventured out onto deck, I was immediately reminded of last year; a cold, driving rain drenched the low-slung landscape of Magellanic tundra in front of us. Once ashore the spongy vegetation, dominated by liverworts, transported me back a year in time. Many common species presented themselves, and many uncommon taxa found their way into my collecting bag. With good rain gear and warm clothing, I was completely comfortable and actually enjoyed the inclement weather.
[Not a valid template]
Back on our trusty ship, we had, once again, to traverse the rough seas of Seno Christmas. But it wasn't the choppy seas that made the crossing completely unforgettable, instead it was a real culinary treat; our cook had prepared gnocchi from scratch, for 16! I have had all too many heavy gnocchi in my life, but these were light and tender, and the special tomato and red bell pepper sauce he made just for me (I'm the only vegetarian this year) was heavenly.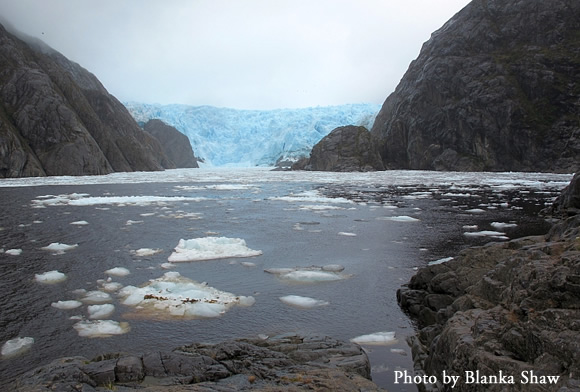 For the afternoon we visited another glacial area at the terminus of yet another unnamed sound. The collecting was a bit disappointing, but only because it had been so spectacular at Caleta Coloane a few days earlier. Regardless, I still managed to find some interesting mosses. When I saw the zodiac dropping off some of our group at a nearby site, I signaled it to pick me up and take me back to the ship. I had multiple reasons (all selfish): I wanted a little time alone, without a group; I wanted a hot shower; and I wanted to get my specimens processed without having to compete for table space. I was successful with all.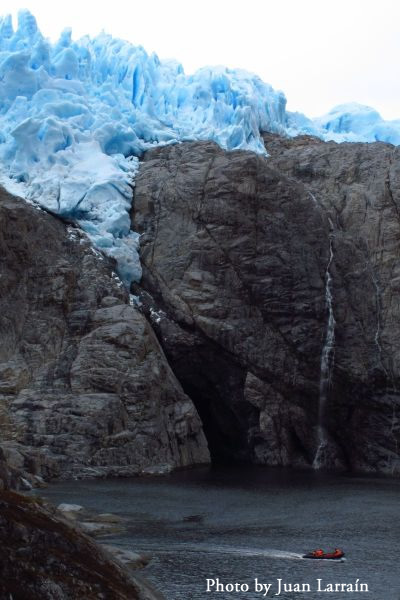 We are now at sea again at the beginning of a three-hour voyage, heading toward Isla Darwin. This was not on our original itinerary but the lure of the name has proven irresistible. The middle hour of the trip is scheduled to be rough, so I am hurrying to finish today's blog so that I might weather the turbulent waters in my bunk. I was asked by the cook if we wanted to eat before or after the bad seas. Because the lunch was so large and filling, we are planning to eat afterwards.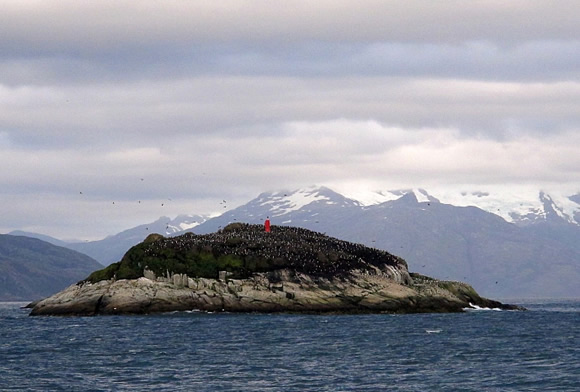 Tomorrow we visit Isla Darwin for a half day before returning to Punta Arenas to deal with our mounting quantities of wet specimens. We will also lose Mauricio. He will be missed since he is always in a good mood and has really enjoyed his vascular plant collecting. We are all hoping that Isla Darwin will live up to its namesake.
Ed. note: NYBG scientist and Mary Flagler Cary Curator of Botany, Bill Buck is currently on expedition to the islands off Cape Horn, the southernmost point in South America, to study mosses and lichens. Follow his journeys on Plant Talk.
Bill Buck's Previous Reports From the Field:
2012
January 23, 2012; Arm of Estero Webb, SW coast of Isla Hoste, approximately 55º14'S, 69º41'W
January 22, 2012.; Unnamed sound on Isla Gordon behind Cabo El Gorro, approximately 55º02'S, 69º48'W
January 21, 2012; Isla Hoste, Estero Fouque, 55º1'S, 69º35'W
January 20, 2012; Isla Hoste, Estero Fouque, approximately 55º11'S, 69º35'W
January 19, 2012; Chile, unnamed sound on north-central coast of Isla Hoste, approximately 55º00'S, 69º12'W
January 18, 2012; Canal O'Brien, just south of Isla O'Brien, 54º55'S, 70º35'W
January 17, 2012; Punta Arenas, Chile
2011
July 15, 2011; Hobart, Tasmania, Australia
July 14, 2011; Pyengana, Tasmania, Australia
July 13, 2011; Weldborough, Tasmania, Australia
July 12, 2011; Hobart, Tasmania, Australia
July 11, 2011; Hobart, Tasmania, Australia
February 8, 2011; Punta Arenas, Chile
February 5, 2011, unnamed sound northwest of Isla Georgiana
February 4, 2011, unnamed sound directly east of Seno Mama, Chile
February 2, 2011, Seno Courtenay, northern arm, Chile
February 1, 2011, Seno Courtenay, Chile
January 31, 2011, Canal between Isla Georgiana and Isla Clementina,, Chile
January 30, 2011, Unnamed sound on south side of Brecknock Peninsula, NW of Isla Georgiana, Chile
January 29, 2011, Isla Aguirre, Seno Quo Vadis, Chile
January 26, 2011, Punta Arenas, Chile
January 24, 2011, Seno Chasco, just north of isthmus to Brecknock Peninsula, Chile
January 23, 2011, Isla Grande de la Tierra del Fuego, Puerto Consuelo, Seno Chasco, Chile
January 22, 2011, Isla Grande de la Tierra del Fuego, Seno Brujo, Chile
January 21, 2011, Isla Grande de la Tierra del Fuego, Seno Brujo, Chile
January 20, 2011, Isla Grande de la Tierra del Fuego, Seno Bluff, Chile
January 18, 2011, Punta Arenas, Chile