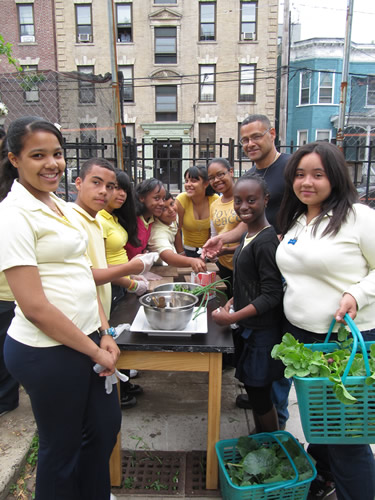 Community Gardening
Since 1988 Bronx Green-Up has helped Bronx residents transform vacant, abandoned lots into vibrant green spaces—the community gardens, school gardens, and urban farms of the Bronx. These gardens and farms are places where people of all ages and of many cultures build new relationships and work together to improve their communities. Gardeners grow fresh fruits and vegetables as well as flowers to use for themselves, share with their neighbors, or sell at community markets. Community members use the gardens for parties, picnics, meetings, or just for having a good time. Community gardens are lively spaces where neighbors get together to share their traditions and stories. School gardens are special resources for hands-on learning and for building community within schools.
Bronx Green-Up contributes design and landscape ideas, gardening advice, hands-on workshops, planting materials such as seeds and bulbs, and much more. With the help of Bronx Green-Up, beginning and expert gardeners learn how to select and grow many flowers, fruits, and vegetables; how to prepare planting beds, sow seeds, plant bulbs, build a compost pile, and prune trees and shrubs; and how to harvest what they've grown. Young and old people get outdoors, work with their friends and families, learn how to garden and how to grow plants, and experience the joy of connecting with the natural world.
Bronx Green-Up community and school gardens and urban farms make life-changing contributions: They beautify and stabilize neighborhoods; provide residents with food, flowers, and places to meet and socialize; and build a greener, healthier, and more sustainable city for all New Yorkers.
To find the community garden nearest you, please visit OasisNYC.net or call Bronx Green-Up at 718.817.8026.