Engaging Future Stewards of the Environment
The New York Botanical Garden's renowned certificate programs, adult education offerings, horticultural tracks, and graduate programs produce some of the most capable plant and landscape specialists in the world, while our children's education offerings teach thousands of children, parents, and teachers the value of caring for our environment.
Citizen Science
Citizen science is the use of enthusiastic volunteers to collect data and generate results. At NYBG, citizen science volunteers are part of several ongoing research, data collection, and Herbarium transcription and digitization projects critical to The New York Botanical Garden's mission.
To study the effects of weather and climate change on Forest plants, the Garden engages citizen scientists in collecting important scientific data on specific species of trees, shrubs, and other plants. Forest citizen scientists learn about native plant species and how to collect and input data on the seasonal change of those species in the Forest such as when leaves, flowers, and fruits appear (a science known as phenology).
Working with partners at the National Phenology Network, the Northeast Regional Phenology Network, The New York Phenology Project, Environmental Monitoring and Management Alliance, and Clean Air-Cool Planet, the Garden has tailored its program to match the needs of scientists who use the collected data to study various aspects of climate change.
Herbarium citizen scientists capture information about the historical who, what, when, and where of collection specimens. This information aids scientists in studying sensitive changes in species distributions after man-made environmental events such as climate change, air pollution, and habitat destruction.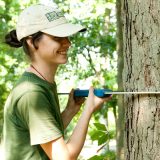 Children's Education
The NYBG Children's Education department offers many programs for students, teachers, teens, and families that teach the importance of environmental stewardship at three educational facilities and throughout the Garden grounds.
The Edible Academy, the Garden's premiere vegetable garden, teaches school and family audiences how to grow healthful vegetables; how to tend to plants with natural materials such as compost, mulch, and natural fertilizers; and how to garden without harmful chemicals such as pesticides and herbicides.
School and camp programs in the Adventure Garden, the Haupt Conservatory, the Native Plant Garden, Thain Family forest, and along the Bronx River provide urban children with firsthand experience in new ecosystems, and teach students the fundamental sciences of botany and ecology, as well as the impact of environmental changes on the flora and fauna of the world. Internship programs for middle and high school students provide hands-on experience in monitoring the water quality of our streams and rivers, and observing and recording the seasonal changes in plants due to climate change. These programs also provide lessons and discussions about how we protect these vital resources for future generations.
Lastly, the Professional Development Program solidifies these concepts for Pre-K–12 teachers, modeling best practices in environmental education while providing in-class and out-of-school lessons for teaching their students about sustainable concepts. The Garden has been providing child-centered sustainable education for over a century, and will continue to be a leader in progressive environmental education into the future.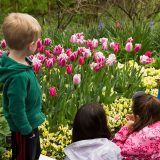 Adult Education
The Garden's focus on sustainability can be seen and felt in Adult Education's seven certificate programs: Botanical Art & Illustration, Botany, Floral Design, Gardening, Horticulture, Horticultural Therapy and Landscape Design
A strong sustainability message is woven throughout the entire program, most pointedly in Landscape Design, Gardening, Horticulture, and Botany, where the curriculum is enhanced with dozens of lectures and specialty workshops dedicated to the practices of studying, growing and maintaining healthy ecosystems.
The Gardening offer includes specialty classes in Composting, Native Herbs, Native Grasses, Gardening to Attract Pollinators, and Building a Sustainable Urban Garden. Starting with the first required certificate course, Fundamentals of Gardening, students are taught the basic principles underlying successful, environmentally friendly gardening.
In Horticulture, our largest and oldest certificate program, students specialize in one of four concentrations—Sustainable Landscape Management, Arboriculture, Sustainable Garden Design, and Plant Production—where conservation and restoration awareness and practices are stitched into all four concentrations, or tracks.
In Botany, we explore all aspects of plant growth and development, plant communities, and the role of plants in ecosystems. Required classes like Native Flora in Autumn emphasize preserving botanical diversity. Electives like The Forager's Feast or Milkweed for Monarchs teach techniques for harvesting edible plants sustainably, and planting and restoring milkweed in parks and gardens.
In Spring 2017, we are proud to introduce a new initiative, the NYBG Urban Naturalist Certificate, designed to improve environmental literacy in city dwellers of all ages who wish to take their passion for the natural world to the next level. One underlying theme is to demonstrate the effects of habitat destruction and climate change on species and ecosystems, and teach ways of reducing negative human impact to protect and sustain our fragile environment.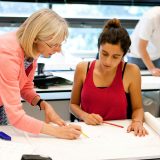 School of Professional Horticulture
The School of Professional Horticulture has positioned itself to be a leader in educating its students in the area of conservation and sustainable landscape management, and has woven important concepts of sustainability throughout its curriculum.
Three examples are:
Principals of Ecological Landscape Design: This course teaches students how to design gardens that are self-sustaining ecosystems that can be stunning and low maintenance while also providing a haven for wildlife.
Landscape Management: In this course, students learn the management and maintenance of commercial and residential landscapes using sustainable, ecologically sound techniques. They also learn how to effectively develop programs that reduce adverse effects on the environment, including alternative approaches to conventional lawn management.
Plant Communities Workshop: Students gain insight into how, where, and why "plant communities" form, so they will learn how to design plantings inspired by these natural communities.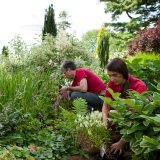 Commodore Matthew Perry Graduate Studies Program
The New York Botanical Garden is a preeminent center for biodiversity research and conservation, and a primary mission of the Garden, from its origin, has been the education of the finest botanists possible.
Since the inception of its Graduate Studies Program in 1896, more than 300 students have received Ph.D. and Master's degrees through the Garden's joint programs with local universities.
The strength of the program lies in its blend of classroom study, traditional fieldwork, and access to cutting-edge molecular technologies that set the standard for modern biodiversity research.
The Garden trains students in diverse academic disciplines in the plant sciences, from systematics and ethnobotany, to agroforestry and genomics, supervising research activities and providing research facilities for its students. The Graduate Studies Program prepares students to assume leadership positions at academic, research, and conservation organizations around the world. The program serves a diverse student body, and NYBG students have come from Asia, Africa, Europe, and Latin America.
After graduating, most foreign students return to their home countries to hold positions in government agencies, research centers, universities, and botanical gardens, where they have a direct impact on conservation, education, and biodiversity research. In this way, the Garden makes a significant contribution to the development of sound environmental policies in many nations struggling with the often conflicting goals of economic development and conservation.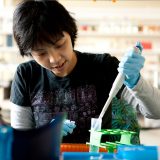 Corporate Volunteers
NYBG's Corporate Membership Program offers exclusive group volunteer activities to work on grounds throughout the year. Corporate partner groups play an integral role in ongoing forest restoration, grounds maintenance, and program support.
Employees are invited to schedule activities in groups of 10 or more. Depending on the season, volunteer needs may include invasive species removal or trail maintenance in the Thain Family Forest, special garden projects in the Edible Academy, or customer service support for festival weekends. All volunteer efforts help NYBG continue to be a leader in environmental sustainability education.