At The New York Botanical Garden we are committed to the study, conservation, and sustainable management of tropical ecosystems—both in the Americas and in the old world. The Garden has active research projects in diverse tropical biomes, including Tropical Rain Forest, Tropical Deciduous Forest, Alpine Tundra, and even Desert habitats.
Tropical Rain Forests are the most diverse and productive ecosystems on earth. These forests cover approximately 6% of the surface of the earth, but they are home to approximately 50% of the species and produce 40% of atmospheric oxygen. These forests are especially endangered, with more than 50,000 square miles of forest—an area larger than the total land surface of New York State—lost every year. Rates of deforestation have decreased in recent years, but the need for us to understand and manage tropical ecosystems is more urgent than ever.
The New York Botanical Garden was founded, indirectly at least, because of Nathanial Lord Britton's interest in tropical plants. Britton had received plants from H. H. Rusby's first collecting trip to the mountains of Bolivia, but he lacked reference specimens to help identify Rusby's collections. For this reason, Britton, with his wife Elizabeth, also a botanist, traveled to Europe to identify the Rusby collections. When they visited Royal Botanic Gardens, Kew, the Brittons decided that a similar institution should be established in New York, so they founded The New York Botanical Garden.
Since the institution was founded, scientists at NYBG have carried out research on tropical plants and assembled collection resources to support this activity. The William and Lynda Steere Herbarium, with its 7.8 million plant and fungal specimens, has 3.4 million specimens from tropical America; the NYBG Press has published articles and books about tropical plants continuously since 1905; the Plant Science Research Laboratory supports all manner of investigation into the systematics, genetic diversity, and developmental mechanisms of tropical plants; and more than 50 students from the tropics have earned degrees through our Graduate Studies Program. Current tropical research activities at NYBG consist of diversity inventories of tropical plants and fungi, systematic studies of tropical plants, conservation initiatives to protect tropical habitats, community-based forestry to improve economic health and resource sustainability in local communities, documentation of plant uses by indigenous people and in immigrant communities, and studies on the assembly and evolution of tropical biotas.
Tropical Research Projects at NYBG
Caribbean
For more than a century, Garden scientists have been partnering with local people and international colleagues to explore, understand, conserve, and manage the incredible plant diversity of the Caribbean Region.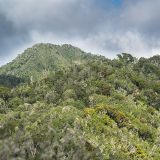 Southeast Asia
The warm, humid tropical and subtropical region of Southeast Asia includes both mainland (e.g., Thailand, Vietnam) and island (e.g., Indonesia, Philippines) nations. Only a small percentage of Southeast Asian forests remain intact, but those that do are largely unexplored.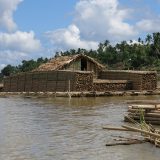 Pacific
The goals of the Garden's Pacific research are to complete botanical inventories and identify the most important places for conservation. Indigenous knowledge about plants is integrated into conservation efforts that preserve both traditional medicinal practices and botanical resources.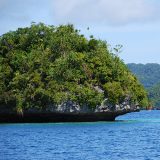 Atlantic Coastal Forest of Brazil
Brazil's Atlantic Coastal Forest extends in a narrow band from tropical through subtropical latitudes in eastern Brazil. This floristic province is one of the world's biodiversity hotspots, with high species diversity and endemism (species found only in this geographic area), and also with devastating rates of deforestation. Less than 5% of the original forest remains.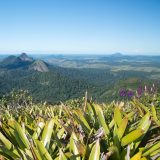 Amazonia
The Amazon Basin is home to Earth's largest tropical rain forest, whose original extent covered an area two-thirds the size of the United States. The Amazon Basin also contains many other habitats—from dry forests to dry or wet savannas, mountains, and rocky hills—each with its own rich composition of species. The Amazon Basin is home to at least 30,000 species of vascular plants.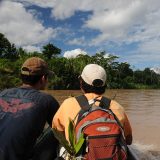 South America
While the Garden has active research projects in the Amazon and in the Brazilian Atlantic Coastal Forest, the institution also has ongoing programs in other parts of tropical South America. The most important areas for NYBG research traditionally have been Colombia, Ecuador, French Guiana, central Brazil, and Chile.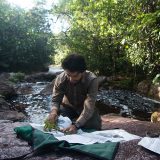 Systematics of Tropical Plants and Fungi
Plant systematists at the Garden study the origins, patterns, and conservation of plant and fungal diversity. Expertise at NYBG ranges from fungi, lichens, algae, and mosses, to ferns and seed plants. The goals of systematics research are to address questions of plant classification, evolutionary history, biogeography, and ecological interactions.