Article Alerts: Selected Staff Publications
Molecular systematics studies, new species descriptions, developmental genetics of seeds, land plant phylogenomics, the description of a 125 million year old tree fern fossil–this, and more, is the research of the scientists at The New York Botanical Garden.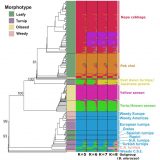 Brassica rapa domestication: untangling wild and feral forms and convergence of crop morphotypes
Turnips, bok choy, napa cabbage, mizuna and many other globally important vegetables derive from thousands of years of human selection on a single species, Brassica rapa. Previously, the wild relatives of these crops, their complex domestication history, and their selection into diverse forms has been a mystery.
Through a combination of genetics, ecological modeling, and ancient literature, we were able to distinguish truly wild B. rapa from weedy escaped crops, identify a possible location of domestication in the mountains of Central Asia, and disentangle multiple origins of leafy vegetables out of turnip crops. The identification of wild relatives and a center of origin help prioritize conservation efforts and point to diversity that may be useful for adapting our crops to new pressures like climate change.
(Molecular Biology and Evolution, April 2021
NYBG Contact: Alex McAlvay)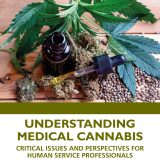 Understanding Medical Cannabis
This book provides a cutting-edge overview of topics related to the medical and therapeutic use of cannabis. Employing an interdisciplinary, biopsychosocial framework, the book explores the biological, cultural, and policy context of medical cannabis from a wide range of perspectives including practitioners, academics, and medical cannabis advocates.
The book bridges the gap between theory and practice and underscores the urgent need for expanded and rigorous scientific research as medical cannabis is increasingly legalized. Chapters are both evidence-based and practical, weaving in learning objectives, review questions, and case examples, all of which will prepare students and professionals for the reality of working with medical cannabis consumers.
*One chapter in the book, Cannabis Ethnomedicine (Balick & Dahmer), explores the historical and cultural context of cannabis and addresses contemporary medicinal uses.
(Understanding Medical Cannabis, January 2021
NYBG Contact: Michael Balick)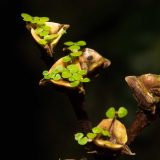 First Reports of Vivipary in Neotropical Melastomataceae
The authors present the first reports of vivipary in Neotropical Melastomataceae and remark on the evolutionary relationships among the three lineages that share this feature.
The observational data were gathered during field expeditions and from herbaria collections. These data were then plotted onto a phylogeny developed for the Melastomataceae in a previous study. Vivipary is reported in six species belonging to three genera and three tribes of Melastomataceae. These species have convergent characters, such as an herbaceous habit and capsular fruits, and inhabit similar ecological niches in shaded tropical rain forest floors. This record of convergent vivipary distributed among different lineages could elicit discussions regarding the role of the phenomenon in the distribution of individuals within populations as well as contribute to the knowledge of vivipary in flowering plants.
(International Journal of Plant Sciences, January, 2021
NYBG Contact: Fabian Michelangeli)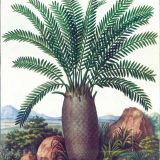 Retracing origins of exceptional cycads in botanical collections to increase conservation value
Cycads have a long history of use in traditional medicine and food, and are among the most highly sought‐after plants in ornamental horticulture. Threatened by overharvesting and habitat destruction, cycads are the most threatened group of plants in the world.
Thousands of cycads are on display at botanic gardens worldwide, and many have been kept alive for centuries. Unfortunately, information about their provenance is unknown or has been lost over time. By retracing wild origins (provenance) of cycads in botanical collections, we can realize their untapped value for use in restoration and recovery work, addressing international conservation targets.
(People, Plants, Planet, December 19, 2020
NYBG Contact: Dennis Stevenson)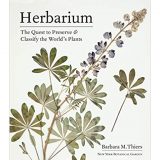 Herbarium: The Quest to Preserve & Classify the World's Plants
Since the 1500s, scientists have documented the plants and fungi that grew around them, organizing the specimens into collections. Known as herbaria, these archives helped give rise to botany as its own scientific endeavor.
Herbarium is a fascinating enquiry into this unique field of plant biology, exploring how herbaria emerged and have changed over time, who promoted and contributed to them, and why they remain such an important source of data for their new role: understanding how the world's flora is changing. Barbara Thiers, director of the William and Lynda Steere Herbarium at the New York Botanical Garden, also explains how recent innovations that allow us to see things at both the molecular level and on a global scale can be applied to herbaria specimens, helping us address some of the most critical problems facing the world today.
At its heart, Herbarium is a compelling reminder of one of humanity's better impulses: to save things—not just for ourselves, but for generations to come.
(Timber Press, December 8, 2020
NYBG Contact: Barbara Thiers)
NYBG Shop Book information: Herbarium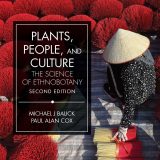 New Edition of Plants, People and Culture: The Science of Ethnobotany
NYBG's Michael Balick and his colleague Paul Alan Cox, head of the Institute of Ethnomedicine and Brain Chemistry Labs in Jackson Hole, Wyoming have just published the second edition of their widely acclaimed book, Plants, People and Culture: The Science of Ethnobotany.
This edition, developed as a textbook for ethnobotany classes as well as the lay public, discusses the botanical wisdom of indigenous peoples. The authors argue that the very roots of human culture are deeply intertwined with plants, and that conservation goals can be best achieved by learning from indigenous peoples and their beliefs. The book is written in an engaging style understandable to all, with first-hand stories of fieldwork, spectacular illustrations and a deep respect for cultural diversity and the earth's natural heritage. Recently, the American Botanical Council in Austin Texas hosted a virtual book launch event, with anthropologist and sustainability specialist Ann Armbrecht moderating a conversation with Drs. Balick and Cox that can be viewed here.
(CRC Press, September, 2020
NYBG Contact: Michael Balick)