The New York Botanical Garden strives to maintain a position at the cutting edge of sustainably operated institutions. All across our 250 acres you'll find efforts underway to reduce our carbon footprint, streamline our use of natural resources, and educate both the public and future horticultural and botanical experts in the effective stewardship of our environment.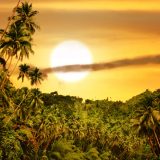 Before the Green is Gone
Wednesday, June 14, 2017
This Summit offers informative and engaging peer-led sessions on subjects in three critical sustainability areas – water, forestry, and energy.