Creating a More Energy-Efficient Garden
By minimizing our impact on the city's electrical grid and working year after year to streamline our use of resources, The New York Botanical Garden has become a leader in institutional sustainability. See how our ongoing work to modernize our buildings and infrastructure is making the Garden a cleaner, more efficient part of New York's cultural landscape.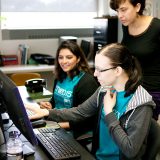 Consolidating Office Supply Purchasing
In order to prevent large delivery trucks from visiting the Garden daily for office supplies, the decision was made to have a single vendor deliver all NYBG orders once per week. By consolidating deliveries and creating a more efficient supply schedule, NYBG has taken one further step in reducing its carbon footprint.