Afro-Indigenous Histories of Food and Gardening: Garifuna Plant Knowledge, Past and Present
Friday, October 29, 2021
Online | 11 a.m. EDT
Exiled from their Caribbean homeland of Saint Vincent in the late 18th century, Garifuna Indigenous communities settled around the world. From Central America to England and The Bronx, Garifuna people have cultivated unique and vibrant culinary and medical traditions.
The third in a series of Foodways Workshops, devoted to the food and beverage traditions of particular Bronx communities, this event features Bronx Community organizer and leading Garifuna culinary expert Isha Sumner, along with noted scholars of Afro-Caribbean culture Julie Chun Kim, Associate Professor of English at Fordham University, and Christina Welch, Lecturer in Religion and Death Studies at the University of Winchester, UK. Together, they will explore and personalize Garifuna food, knowledge, and uses of plants as defining elements of their culture and identity.
Presented by the Humanities Institute with generous support from The Andrew W. Mellon Foundation
Dr. Julie Kim is Associate Professor and Associate Chair, Rose Hill Undergraduate Studies, Fordham University, with degrees from Harvard (BA) and Duke University (Ph.D.). Her research interests and teaching focuses on 18th-century British and early American history, including research of colonialism, natural history, and food studies.
She has published articles on Afro-Caribbean medicine, indigenous land rights, and is currently working on a book project entitled Gardening at the Edge of Empire: Colonial Botany in the Revolutionary Caribbean, which examines the production of scientific knowledge in the British Caribbean colony of St. Vincent in the late 18th century.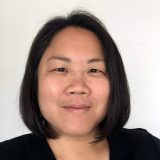 Isha Gutierrez-Sumner—a Garifuna artist, chef, and author—immigrated to the U.S. at the age of 15, and the foundation of her Garifuna ethnicity and culture remains central to her identity. Moreover, sharing that has been a major part of her life for the past 25 years.
As a professional Garifuna dancer, Isha was a member of the International Folkloric Garifuna Ballet of Honduras, which toured throughout Honduras and Europe in the early 1990s. From 1995–2000, she was a member of Wanichagu, a Garifuna dance company based in New York City, and performed at Lincoln Center, Harvard University, and other venues.
Isha's passion to perform onstage transitioned to more formal acting and included a featured appearance speaking Garifuna in Law and Order: Special Victims Unit in 2007. In 2016, she completed her Associate's Degree in acting at William Esper School in Manhattan.
With a continued passion to share and preserve her own Garifuna culture, Isha has dedicated much of the past five years to documenting Garifuna cuisine in her cookbook Weiga, Let's Eat.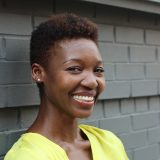 Dr. Christina Welch lectures in Religion and Death Studies at the University of Winchester, U.K. She is an interdisciplinary scholar with research interests in visual/material culture and heritage.
Since 2019 she has been researching in St. Vincent and a forthcoming co-authored publication on interpretations of the indigenous and imported heritage of medicinal and culinary plant use on the island, through analysing the archives of Dr Alexander Anderson who ran the Botanical Garden between 1785-1811, and drawing on research with the Garifuna Heritage Foundation, and John Nero of Grieggs Village. She is currently putting together a grant bid to explore the Anderson archives further to highlight the hidden contributions of indigenous and enslaved African knowledge systems in the Botanical Garden.