Afro-Indigenous Histories of Food and Gardening in the Bronx
Friday, April 8, 2022
11 a.m. – 12:30 p.m.
Garifuna Food Traditions: Keeping Connected
Exiled from their Caribbean homeland of Saint Vincent in the late 18th century, Garifuna Indigenous communities have settled around the world, from Central America to England and the Bronx, cultivating unique and vibrant culinary traditions.
This in-person seminar gathers well-known Garifuna authors, artists, journalists, and food specialists Janel Martinez, Luz Soliz-Ramos, and Isha Sumner (moderator). As Garifuna women have done for centuries, they continue to plant essential crops and tend gardens to connect with the earth, with their ancestors, and also to establish roots in the United States today.
In a lively discussion co-hosted by Fordham University's Dr. Julie Kim, the panel explores food customs as a defining element of culture, and shares personal and familial experiences with traditional Garifuna dishes, including Hudutu, a coconut fish stew served with mashed plantains—ingredients that are available in local markets or grown in community gardens.
Following the discussion, attendees are invited to explore a special, curated display of contemporary cookbooks along with works related to Garifuna history from the Mertz Library collections.
Photo © Milton Guity Jr. for Weiga Let's Eat!
RSVP
Thank you for your interest. This event is now at capacity and walk-ins cannot be accommodated. Stay tuned for future events from the Humanities Institute at NYBG.
Janel Martinez is a writer and the founder of the award-winning blog Ain't I Latina?, an online destination celebrating Afro-Latinx womanhood.
A Bronx, NY native, Janel is a frequent public speaker discussing media, culture, and identity, as well as diversity at conferences and events for Bloomberg, NBCU, New York University, SXSW, Harvard University, and more. A much-featured guest on national shows and outlets such as BuzzFeed, ESSENCE, and NPR, her work has appeared in Adweek, Univision Communications, Oprah Daily, Refinery29, Remezcla, and The New York Times, among others. The Honduran-American was nominated for the 20th Annual Rosoff Award, won the Afro-Latino Festival of New York's Digital Empowerment Award, and, in 2018, was recognized at City Hall by the New York City Council; the Black, Latino and Asian Caucus; and the Bronx Delegation to the NYC Council for her contributions as a woman of Garifuna descent. Her work is featured in the newly-released young adult anthology Wild Tongues Can't Be Tamed, published by Flatiron Books.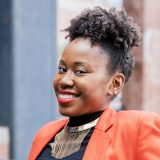 Luz F. Soliz-Ramos is the founder of the Garifuna Heritage Center for the Arts and Culture Inc. and Co-Choreographer and Artistic Director of Wabafu Garifuna Dance Theatre.
Originally established in 1992 in the Bronx, NY, Wabafu features members from different Central American Countries such as Honduras, Guatemala, and Belize, with a goal to preserve Garifuna culture through, dance, music, singing, drama, and poetry. Luz was born in Trujillo Colon, Honduras, and migrated to the United States with her family as a teenager. She enrolled at Marist College, Poughkeepsie, NY, and at Bard College, Annandale-on-Hudson, where she graduated in Dance & Drama in 1981. As Faculty Facilitator at Boricua College, New York, she taught for the New York City Department of Education and holds a Master's Degree in Dance Education from Teacher's College, Columbia University. She is the author of two books—Learn Garifuna Now! and Garifuna Picture Dictionary—dedicated to her daughter and to all Garinagu who want to continue to preserve the Garifuna language through conversation and literature.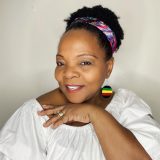 Isha Gutierrez-Sumner, Garifuna artist, chef, and author, immigrated to the U.S. when she was a teenager. The foundation of her Garifuna ethnicity remains central to her identity and sharing Garifuna culture has been a major part of her life for the past 25 years.
As a professional Garifuna dancer, Isha was a member of the International Folkloric Garifuna Ballet of Honduras, which toured throughout Honduras and Europe in the early 1990s. From 1995–2000, she was a member of Wanichagu, a Garifuna dance company based in New York City, and performed at Lincoln Center, Harvard University, and other venues. Isha's passion to perform onstage transitioned to more formal acting and included a featured appearance speaking Garifuna in Law and Order: Special Victims Unit in 2007. In 2016 she completed her Associate's Degree in acting at William Esper School in Manhattan. With a continued passion to share and preserve the Garifuna culture, Isha has dedicated much of the past seven years to documenting Garifuna cuisine in her soon to be published cookbook, Weiga, Let's Eat.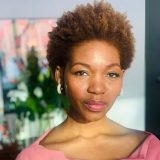 Presented by the Humanities Institute with generous support from The Andrew W. Mellon Foundation