NYBG Farmers Market
Wednesdays, June 1–October 26, 2022
10 a.m.–3 p.m. | At the Garden
Voted one of the top 10 farmers markets in NYC by TimeOut New York!
Visit and enjoy a variety of locally grown produce, fresh baked goods, and other specialty items at the Garden's farmers market.
Weekly Vendors
Each Wednesday, select from top produce vendors, bakers, and specialty food purveyors from New York State and beyond. If you would like to be considered as a partner vendor, please visit Morning Glory Markets for more information.
2022 vendors included*:
Anthi's Greek Specialties
Tarrytown, NY
Anthi's Greek Food is focused on producing fresh, healthy, delicious Greek cuisine. Their food is authentic and the menu boasts flavorful Greek-inspired dishes such as tsatsiki, moussaka, and chickpea salad.
Arlotta Food Studio
Briarcliff Manor, NY
Infused organic olive oils (garlic, lemon, red pepper, blood orange), balsamic vinegars, and tapenades.
Ash Hopper Soap
Hudson Valley, NY
Ash Hopper is a family owned handcrafted soap company in Hudson Valley, New York that is passionate about sustainable, responsibly sourced ingredients.
Boogie Down Bronx Honey
Bronx, NY
Their honey bees forage on diverse and bountiful wildflowers to bring you 100% pure, natural, raw honey harvested from hives located right here in the Bronx.
DiRiso
Hastings-on-Hudson, NY
Enjoy the tastes of traditional Italian cooking.
Don Carvajal Coffee
Bronx, NY
Brewed in the neighborhood and offering iced coffees and coffee beans.
Escargot Voyageur
Chef Thierry provides French classics from quiche to ratatouille Napoleon.
Freshly Made Juices
Bronx, NY
The collaborative effort of two Bronx women residents, Freshly Made embodies the current healthful approach to eating with juice and smoothies.
Goode & Local with Don Rodrigo Farms
Mi Oh Mi Farms
Mi(crogreens) Oh My(celium) Farms is a worker-owned urban farm, producing 100% organic and delicious microgreens and mushroom products.
Mom and Ice Pops
Brooklyn, NY
A Brooklyn-based icepop business run by mom and son, these family-made icepops are to be enjoyed by all! They offer icepops with original flavor combinations, made from all-natural ingredients.
Myriad Mirage
Nyack, NY
Artist Ginamarie Engels's work features unique, handcrafted jewelry, art, and more that is inspired by nature.
Nutmeg Café
Tuckahoe, NY
Enjoy savory and sweet baked goods presented by owner Cindy Bothwell.
Penny Lick Ice Cream 
Hastings-on-Hudson, NY
Founded in 2013 with the mission of bringing back old-fashioned, custard-based ice cream, the ingredients are fresh and locally sourced. Small batch ice cream made with heavy cream, cream-lined whole milk, eggs, and sugar from local Hudson Valley farms—and no artificial colors, flavors, or sweeteners.
River Valley Community Grains
Working with an agronomist, River Valley Communty Grains is encouraging farmers to use regenerative and organic agricultural methods to help the growing demand for nutrient-dense grains, local flour, "real bread," and healthy cereals in our region.
True Food of Nyack
Nyack, NY
An organic cafe in Nyack that serves up fresh, flavorful seasonal items like lemony chickpea, kale, and red onion salads, and burritos made with local, organic chicken.
Wave Hill Breads
Norwalk, CT
A micro-bakery making artisan breads and pastries with organic whole grains milled at the bakery. The range of their offerings—from a perfectly puffed croissant to a classic Roman focaccia—is astounding.
*Vendor list is subject to change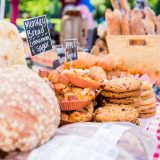 Try a Farmers Market Inspired Recipe at Home
Feeling creative after a trip to the Farmers Market? Check out these recipes inspired by our vendors and make a delicious meal or treat at home!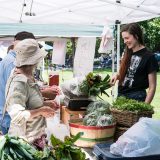 Veggie Valet
Would you love to shop at the Market, but don't want to lug your purchases around or have your lettuce wilt while you explore NYBG? Worry not! Market staff will keep all of your purchases on ice as part of our complimentary "Veggie Valet" service. Shop early, drop off your groceries, and pick up before you leave.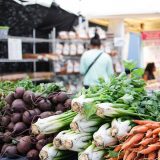 About the Farmer's Market Director: Pascale Le Draoulec
Pascale Le Draoulec is delighted to bring her brand of farmers market to NYBG, one of her favorite places in New York. Ms. Le Draoulec also manages the Hastings, Irvington, Chappaqua, and Bronxville farmers markets, which all have a reputation for being well-curated weekend hubs of their communities.
Before running farmers markets, Ms. Le Draoulec was a newspaper reporter for 18 years. She spent most of those years writing about food, and from 2001 to 2007 she was the lead restaurant critic at the New York Daily News where she won a James Beard award for her reviews.
She is the author of American Pie: Slices of Life and Pie from America's Back Roads (Harper-Collins, 2002), which chronicles her cross-country road trip in an old Volvo 240 named "Betty" in search of her American roots—and people who still make pie from scratch.
A first-generation American, Le Draoulec was raised in California, in a decidedly French household obsessed with all things "food." A hard-driving rain always meant foraging for plump snails in the backyard, purging them in a bucket of salt overnight in preparation for escargots a l'ail et au persil.
Ms. Le Draoulec learned to cook (and to make goat cheese and pluck a chicken) while living on a dilapidated dairy farm near Normandy in her 20s—long before there was anything chic or trendy about farm-to-table cuisine. Markets are her happy place.