Birding Sunday
Sunday, October 3, 2021
10 a.m. – 3 p.m.
Spend Time with the Garden's Birds
Autumn is the perfect time of year to connect with the birds of NYC. Learn about the amazing work that NYC Audubon does to create a nourishing environment for our feathered friends, or join an expert for a guided bird tour!
Bird Tours
10 a.m. & 12 p.m.
Meet at the Main Entrance to the Thain Family Forest
Join birding guides for tours of NYBG's diverse landscape. Learn why this unique green space is such a vital haven for a great variety of species year-round. Remember to bring your binoculars!
Featured Guides:
Gabriel Willow
90-minute long tour; 10 a.m.
Willow is an environmental educator, ecologist, and urban naturalist who lives and works in New York City. In particular he is known for his birding tours and city wildlife tours, which he has led since 1999 through the parks, gardens, and waterways of New York City.
Ronnie Almonte
1-hour long tour for beginners; 12 p.m.
Almonte is a high school biology teacher who began bird watching as a hobby, but became more serious during the pandemic, planning birding trips for his students and others. He has worked with organizations to cover the issues of social justice and access around birding.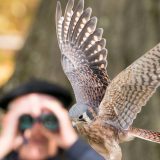 The Nest
11 a.m.–3 p.m.
Entrance to the Native Plant Garden
Meet representatives from NYC Audubon, which works to protect the wild birds and habitats of the five boroughs to improve the quality of life for both New Yorkers and their feathered friends. See how well you know the Garden's birds by participating in their scavenger hunt!