Celebrating Daffodils
Friday, April 2, 2021
11 a.m. – 12 p.m.
Tracing the history of the daffodil from Europe to the United States—and its popularity in the American garden—horticultural specialist Sara Van Beck will highlight the propagation and preservation of Narcissus. Information culled from nursery and seed trade catalogs combined with modern taxonomies will show the changing use of daffodils in the landscape, reflecting larger horticultural trends as well as climate fluctuations. A discussion with NYBG curator Claire Lyman will include a brief overview of the Botanical Garden's own rare historic cultivars. Nearly a century old, its Daffodil Collection boasts many important legacy plantings, including known heirlooms, recently identified cultivars, as well as new Narcissus varieties for the 21st century.
Sara Van Beck, a renowned horticulturist, historian, and avid gardener, is widely regarded as one of America's foremost daffodil authorities.
She is chair of the Historics Committee of the American Daffodil Society (ADS), established their Display Garden Program, and also serves on the Acquisitions Committee of the Cherokee Garden Library, Atlanta History Center. Van Beck worked as a museum curator with the National Park Service and is the former president of the Georgia Daffodil Society. An avid writer, Van Beck's Daffodils in American Gardens, 1733–1940 is considered the premier work on the history and cultivation of Narcissus.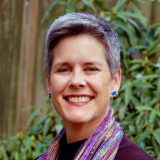 Claire Lyman is Assistant Curator for Outdoor Gardens at The New York Botanical Garden where she helps develop, document, and interpret the Garden's hardy plant collections.
Highlights from her five years at NYBG include research of the Garden's historic Daffodil Collection and a 2019 seed collection trip to Romania through the North American Plant Collection Consortium. Lyman holds a degree in Plant Biology from the University of Washington where she was a peer teaching assistant in Plant Systematics and Identification. She collaborated with the U.S. Forest Service and Washington Rare Plant Care and Conservation on determining plant hybridization through in situ population assessment and a common garden study.