Cycads: From Field Biology to Neurobiology, a Botanical Journey
Friday, October 16, 2020
11 a.m. EDT | Online
In commemoration of his 40-year scientific career at The New York Botanical Garden, Senior Curator Emeritus Dr. Dennis Wm. Stevenson will present a synopsis of his 50 years of research into varied aspects of cycad biology. It is a gamut, which follows the many bandwagons of botanical research for the past half-century. His talk will include, but not necessarily be limited to, research done in Slice & Dice and Machete Botany (Anatomy and Morphology), Flyspeck Botany (Chromosome Cytology), Blender Botany (Phytochemistry), Spray & Pray Botany (Physiology and Morphogenesis), Pipette Botany (Molecular Systematics and Barcoding), Trekking Botany (Fieldwork), Hard Rock Botany (Paleobotany), and Search for Truth Botany (Phylogenetics). All of these disciplines contribute to and allow for understanding the natural world around us from different aspects and points of view.
About Dr. Dennis Wm. Stevenson
Dr. Stevenson is Senior Curator Emeritus of The New York Botanical Garden. His research focuses on the evolution and classification of cycads (Cycadales), and he studies many aspects of cycad biology, including reproductive biology, anatomy, cytology, and molecular systematics.
Dr. Stevenson received his B.S. and M.S. in Botany from Ohio State University, and then earned his Ph.D. in Botany at the University of California, Davis in 1975. He produces taxonomic treatments of Neotropical cycads, and he leads a highly collaborative research program working with researchers from around the world on cycad taxonomy. He has been a researcher, curator, and administrator at NYBG since 1980.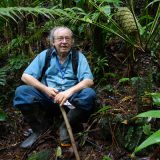 Support for the Humanities Institute provided by The Andrew W. Mellon Foundation