Earth Day with Sam Van Aken: Re-Orcharding New York | Andrew Carnegie Distinguished Lecture 2023
Saturday, April 22
11 a.m. – 12 p.m.
In 1970 more than 20 million Americans coast-to-coast took to the streets to advocate for a healthy, sustainable planet, marking the beginning of the modern environmental movement. Today our collective Earth work must continue with even greater urgency. As part of this year's Earth Day programming, NYBG hosts artist, professor, and fruit tree grower Sam Van Aken for a dynamic discussion about grafting—a centuries-old horticultural technique—and its integral role in improving local biodiversity and habitat conservation.
Among its many forgotten histories, New York City was the origin of fruit tree growing in the U.S. From the indigenous Lenape (Delaware) people cultivating plums, apples, and cherries, to the Huguenots from France introducing grafting and other agricultural practices in the 18th century, the city and region have been shaped by waves of migration and those who brought fruit along as a connection to home.
Fascinated by the historical narratives and cultural significance embedded within fruit and their ability to preserve genetic diversity, Sam Van Aken will share his citywide project, The Open Orchard, a public orchard on Governors Island that launched in 2022 and contains nearly 250 fruit tree varieties that once grew in and around New York City but disappeared with the rise of industrialized agriculture. Van Aken will highlight the process of returning these lost varieties to sites throughout the city and its environmental benefits. He will also highlight additional projects such as his partnership with NYC Parks GreenThumb, which distributes additional trees to local community gardens.
We offer Continuing Education credits (CEUS) for LA CES and APLD for successful completion of this lecture.
About the Speaker
Sam Van Aken is a contemporary artist who work utilizes the techniques of grafting as an artistic medium to create multi-grafted trees that blossom in different tones and bear fruit from summer into fall. Focused on preserving heritage fruit varieties, Van Aken is currently developing an orchard of these heirloom and antique varieties on Governors Island that makes these fruit and ways of growing them available to the public.
Born in Reading Pennsylvania, Sam Van Aken grew up on a family dairy farm. He received his undergraduate education in Art and Communication Theory. Immediately following his studies he lived in Poland and worked with dissident artists under the former communist regime through the auspices of the Andy Warhol Foundation and the United States Information Agency. Van Aken received his MFA from the University of North Carolina at Chapel Hill and since this time his work has been exhibited and placed nationally and internationally. He has received numerous honors including a Joan Mitchell Foundation Award, Association of International Curator's of Art Award and a Creative Capital Grant. Most recently, his work has been presented as part of Nature at The Cooper Hewitt Design Triennial and the Cube Design Museum, Netherlands; and was recognized as a Cultural Leader, exhibiting and presenting at the 2020 World Economic Forum. Sam Van Aken lives and works in Syracuse New York, where he is currently an Associate Professor in the School of Art at Syracuse University.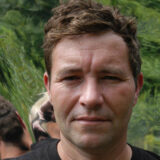 Support for the Andrew Carnegie Distinguished Lecture has been provided by Carnegie Corporation of New York.