Extinct in New York: Returning the City's Lost Plants
Friday, October 25, 2019
11 a.m. – 12 p.m.
At LMCC's Arts Center on Governors Island, artist Michael Wang has installed four greenhouses containing a selection of plant, lichen, and algae species historically documented in the natural environments of New York City, but which no longer grow wild in any of the city's five boroughs. In the months leading up to the exhibition, Wang researched, sourced, planted, and tended to seeds and seedlings of these former New York City natives in his garden and studio in Upper Grandview, New York.
Throughout the duration of the exhibition, these organisms are sustained within a laboratory-like installation, under the care of a team of Arts Center staff, local students, and volunteers. The artist intends the plants to remain in the city after the close of the exhibition, in the managed spaces of urban gardens—re-introduced to the lands where they once grew wild, but persisting now only under human care. The surveys and historical research on which Extinct in New York is based are the work of the New York City EcoFlora Project at The New York Botanical Garden.
About the Speaker
Michael Wang (b. 1981) lives and works in New York. His practice uses systems that operate at a global scale as media for art, addressing climate change, species distribution, resource allocation, and the global economy.
Wang's work was the subject of a solo exhibition at the Fondazione Prada, Milan, Italy (2017) and was included in Manifesta 12 in Palermo, Italy (2018) and the XX Bienal de Arquitectura y Urbanismo in Valparaíso, Chile (2017). In 2017, he was a recipient of the Joan Mitchell Foundation Painters & Sculptors Grant.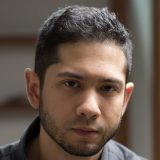 Support for the Humanities Institute provided by The Andrew W. Mellon Foundation