NYBG Farmers Market
Wednesdays, June 12–October 30, 2019
9 a.m. – 3 p.m.
Voted one of the top 10 farmers markets in NYC by TimeOut New York!
The Garden's farmers market abounds with locally grown produce, fresh baked goods, and other specialty items—every Wednesday throughout summer and into fall. Visit for a wide selection of weekly vendors, rotating artisanal purveyors, and visiting live performers.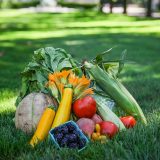 Weekly Vendors
Each Wednesday, some of the top produce vendors, bakers, and specialty food purveyors from New York state and beyond set up shop at the end of NYBG's Tulip Tree Allée.
Vendors may include:
Anna Maria's Savory Jams
Cliffside Park, NJ
Jams in Piemonte, Italy, are not just for bread—they are meant to pair with cheeses and yogurts, enhance the flavor of meats and poultry, and complete the presentation of cured meats and pâté. These jams are a must on any cheese and charcuterie platter.
Arlotta Food Studio
Briarcliff Manor, NY
Infused organic olive oils (garlic, lemon, red pepper, blood orange), balsamic vinegars, and tapenades.
Big Bang Coffee Roasters
Peekskill, NY
Hot/iced coffee and coffee beans.
Blessed Brewery
Beacon, NY
Blessed Brew is made from small batches of hand-crafted kombucha inspired by traditional root beer, ginger beer, and Thai iced tea. Nourish your soul with fair trade, non-GMO, and certified-organic and local ingredients.
The Carbon Chocolate Workshop
New Canaan, CT
Artisanal chocolate maker Drew Salko sources cacao from across the world. He also makes artisanal marshmallows and a dreamy hazelnut-chocolate spread.
Christtine Organic Confections
Cristina Goldstein makes authentic Argentine alfajores and dulce de leche.
DiRiso Rice Balls
Hastings, NY
Riccardo Befi is a renowned gemologist who sidelines as a lasagna, mozzarella and arancini-maker. His porcini rice balls are utterly addictive!
Foraged Wild
Fleetwood, NY
Michael Dubiel, a cook at La Mercerie Restaurant in NYC, likes to forage for mushrooms and dandelion greens. He'll be at the market with something new and and will tell you exactly how to cook everything he brings.
Lime Kiln Farm
Coxsackie, NY
This bucolic farm currently has approximately 40 goats and 8 cows on the milk line. All milk is processed at the farm, making Lime Kiln Farm a farmstead operation.
Honey Locust Farmhouse
Newburgh, NY
Legendary farmer Nancy MacNamara used to grow "custom" mizuna and arugula for top chefs in the city, from Mario Batali to Jean-Georges. Now she makes her own line of organic teas, various types of honey, and jams with local Hudson Valley fruit.
Madura Farms
Goshen, NY
Family-operated farm in the heart of Black Dirt country in Goshen, NY. They grow kale and spinach, but also asparagus, purple cauliflower and romanesco and collard greens. They also cultivate a wide variety of mushrooms. Not certified organic, but organic practices
Mariachi Mexico
Armonk, NY
A back to basics traditional Mexican cuisine with a NY influence, featuring tacos made to order, street corn, and refreshing agua frescas.
Meredith's Bread
Kingston, NY
A family-run bakery that makes everything from pumpkin quick breads to biscotti, challah bread, and ham & cheese quiches.
Mountaintop Maple Syrup
Jewett, NY
100% Pure New York State Maple Syrup, made from sap from our maple trees on a farmstead in the Catskills.
NY Chup
Bronx, NY
Handcrafted, small-batch ketchup by chef Andy Blackman, a graduate of the Culinary Institute of America. NY Chup uses seasonal ingredients like ramps (wild leeks) and sweetens his all natural ketchup with pure cane sugar and molasses.
Red Barn Bakery
Irvington, NY

A full-service bakery offering both savory and sweet treats.
True Food of Nyack
Nyack, NY

An organic cafe in Nyack that serves up fresh, flavorful seasonal salads like lemony chickpea, kale, and red onion salad, and burritos made with local organic chicken.
VN To Go
Pleasantville, NY

Vietnamese specialties, from spring and summer rolls made with Hudson Valley carrots and cabbage to, in colder months, traditional pho soup preparations, both chicken and beef.
Wave Hill Breads
Norwalk, CT
A micro-bakery making artisan breads and pastries with organic whole grains milled at the bakery. The range of their offerings—from a perfectly puffed croissant to a classic Roman focaccia—is astounding.
Wright's Orchard
Gardiner, NY
A five generation family run farm featuring apples, cherries, peaches, berries, pumpkins, and more. Check out their fresh squeezed lemonade, apple cider donuts, and jams!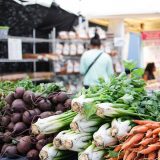 Veggie Valet
Would you love to shop at the market, but don't want to lug your purchases or have your lettuce wilt while you explore NYBG? Worry not! Market staff will keep all of your purchases on ice as part of our complimentary "Veggie Valet" service. Shop early, drop off your groceries, and pick up before you leave.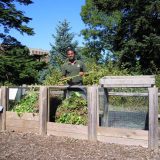 Special Programs
Join the NYC Compost Project to learn more about composting and worm bins.
Quick Tips—Compost Made Easy
Pick up Free composting tip sheets, brochures and grant lists.
Quick Tips—Worm Bins Made Easy
Learn how to compost your food scraps indoors with a worm bin.
Quick Tips—Keep Your Leaves Out of the Landfill
Explore ways to divert fall leaves from the landfill.
Workshop dates to be announced.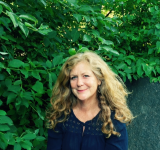 About the Farmer's Market Director: Pascale Le Draoulec
Pascale Le Draoulec is delighted to bring her brand of farmers market to NYBG, one of her favorite places in New York. Ms. Le Draoulec also manages the Hastings, Irvington, Chappaqua, and Bronxville farmers markets, which all have a reputation for being well-curated weekend hubs of their communities.
Before running farmers markets, Ms. Le Draoulec was a newspaper reporter for 18 years. She spent most of those years writing about food, and from 2001 to 2007 she was the lead restaurant critic at the New York Daily News where she won a James Beard award for her reviews.
She is the author of American Pie: Slices of Life and Pie from America's Back Roads (Harper-Collins, 2002), which chronicles her cross-country road trip in an old Volvo 240 named "Betty" in search of her American roots—and people who still make pie from scratch.
A first-generation American, Le Draoulec was raised in California, in a decidedly French household obsessed with all things "food." A hard-driving rain always meant foraging for plump snails in the backyard, purging them in a bucket of salt overnight in preparation for escargots a l'ai et au persil.
Ms. Le Draoulec learned to cook (and to make goat cheese and pluck a chicken) while living on a dilapidated dairy farm near Normandy in her 20s—long before there was anything chic or trendy about farm-to-table cuisine. Markets are her happy place.