Finding Beauty in Fungi: Mushrooms and Lichens
Thursday, February 16, 2023
6 – 7 p.m. | Online
From "mushroom leather" fashion to best-selling books on how mycelial networks create webs of interconnectivity between species, fungi continue to capture the contemporary imagination. Join us to view stunning artwork created by botanical artists Christiane Fashek, Lucy Martin, and Margaret Saylor, who have long focused their artistic lenses on mushrooms and lichens. Each artist will show a curated selection of their work and discuss how they collect, prepare, or photograph specimens for study, how they depict these tiny organisms in such intimate detail, and why they too remain fascinated by fungi. Those interested in submitting work for Unsung Allies, The Fifth NYBG Triennial, will gain invaluable insights from these experts.
Christiane Fashek is a botanical artist based in New York. Formerly an architect, she transferred her interest in form and structure to the study and illustration of lichens and natural ephemera. She earned her NYBG Certificate of Botanical Illustration with honors. Pencil is her preferred medium, particularly colored pencil combined with dry brush. Christiane is a member of the ASBA, the Tri-State Botanical Artists and the Colored Pencil Collective.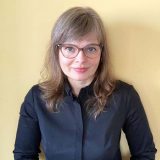 Lucy Martin's botanical paintings reflect her lifelong, deep connection with nature. She grew up in Colorado where her love of the mountains and forests nurtured in her a habit of close observation of the botanical world. Her work has been shown in many group and solo exhibitions, and she has received the Silver Medal at the New York Botanical Garden Triennial and "Best in Show" at the ASBA Annual International Exhibition in 2021. Her tutorial on gouache technique appears in the ASBA Handbook of Botanical Art Techniques.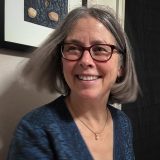 Botanical artist Margaret Saylor's signature subjects are mushrooms and fungi. She forages for specimens in her native Berks County, Pennsylvania, and on her travels throughout the east coast of the United States. Margaret delights in finding the perfect subjects and then portraying their distinctive characteristics and unique beauty in watercolor, graphite, and egg tempera on vellum and gesso board.