Go Green on Wellness Wednesday
Wednesday, September 25, 2019
11 a.m. – 2:30 p.m.
Learn about NYBG's sustainability efforts underway across our 250-acre campus as part of Wellness Wednesdays, an ongoing program that focuses on healthy choices for mind and body.
Sustain the Planet & Your Health
Mosholu Entrance; 9 a.m.–3 p.m.
The Garden's farmers market abounds with locally grown produce, fresh baked goods, and other specialty items—every Wednesday throughout summer and into fall. Visit for a wide selection of weekly vendors, rotating artisanal purveyors, and visiting live performers.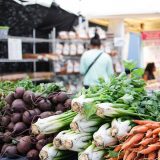 Reduce Waste & Rebuild Soil
NYC Compost Project
Mosholu Entrance; 11 a.m.–1 p.m.

Learn more about composting and worm bins from the NYC Compost Project, which works to reduce waste and rebuild NYC's soils by providing New Yorkers with the knowledge, skills, and opportunities they need to make and use compost locally.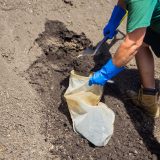 Sustainable Infrastructure & Nutrition
Edible Academy Tour
1:30–2 p.m.
Take a behind-the-scenes tour of the Edible Academy, a three-acre gardening education facility.
Learn about the site's sustainable infrastructure systems and the campus's state-of-the-art green components, which include a LEED Gold-certified classroom building with a green roof, technology lab, demonstration kitchen, and composting toilets; teaching greenhouse and plant nursery; solar pavilion with photovoltaic panels; as well as outdoor gardens and a terraced amphitheater. Explore the innovative programs that teach children, families, and educators how to grow and prepare vegetables, fruit, and herbs while encouraging a lifelong interest in nutrition awareness and environmental stewardship.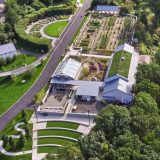 Climate-Friendly Recipes
Fresh from the Garden Tastings
Edible Academy; 2–2:30 p.m.
Get hands-on with inspiring cooking demonstrations featuring family-friendly, plant-based recipes using seasonal vegetables, fruit, and herbs that are healthy for you and the planet.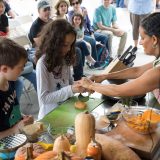 Greening Site Operations with Zero-Emission Vehicles
All-Electric Trucks Q&A
Edible Academy; 2–2:30 p.m.
In 2018 NYBG was one of four institutions in New York to receive an all-electric truck (and now has two) as part of a competitive program initiated by the New York State Attorney General. See and learn how these zero-emission vehicles help keep the Garden environmentally and economically efficient.