Good Things Reading with Maryah Greene
August 2, 2023
1:30 p.m. | At the Garden
Join us on August 2 for a Story Time reading at the Everett Children's Adventure Garden with Maryah Greene and her new book, Good Things.
Maryah Greene is a friend of the Garden and a Plant Stylist & Consultant who tells a tender and honest story about loss, hope and memory. While gorgeous and colorful illustrations by Alleanna Harris bring this world to life.
Following the reading, Maryah will sign copies of Good Things at NYBG Shop. All are welcome to visit and purchase a copy of the book. Availability is on a first come, first serve basis.
About Good Things
Malcolm loves everything about his dad, "Pops"; the way he looks out for everyone in the neighborhood; the way he always seems to know the right thing to say, and especially, the way he cares for his plants. Malcolm has dreamed of having plants that will grow as big and healthy as Pop's but making that into a reality is turning out to be much harder than he thought.
To keep him going, Pops reminds Malcolm that "Good things take time." But when Pops unexpectedly passes away, and his plants are left to Malcolm; Malcolm feels like there is too much responsibility on his shoulders and hurt in his heart.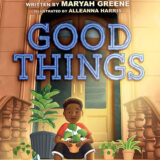 About Maryah Greene
Maryah Greene is a New York based, Japan-bred Plant Stylist & Consultant. She is a graduate from the Bank Street College of Education mastering General Education and Literacy. Much like her plants, Maryah knows what it's like to start from seed and has no intention of stopping anytime soon. Good Things is her first book. You can find Maryah on Instagram @greene.piece and TikTok @greenepiece.