Herbaria:
Collectively Saving Plant and Fungal Biodiversity
Friday, January 8, 2021
11 a.m. – 12 p.m.
For nearly six centuries, scientists have been documenting the plants and fungi of the world through herbaria. The basic preparation of specimens that are housed in an herbarium has changed relatively little over time. But the invention of this simple technology was a key innovation in transforming the study of these organisms from a minor subdiscipline of medicine into an independent scientific endeavor. In this webinar based on her newly published book, Herbarium: The Quest to Preserve and Classify the World's Plants, Dr. Barbara Thiers discusses the intricate history of herbaria and how these biological collections have allowed scientists to characterize and understand plant and fungi diversity on a global scale.
The collectors and curators responsible for the approximately 3,300 herbaria we have today (holding an estimated 393 million specimens) are diverse in national heritage, education, and social status. The geographic, taxonomic, and temporal breadth of their legacy allows us to understand the diversity of the world's vegetation in the past and present, and to predict its future. Herbaria still serve their original function—to document the occurrence of plants and fungi and provide a reference for their identification and characterization. However, recent technological advances that facilitate the study of life at both the molecular level and on a global scale can be applied to herbarium specimens to help address some of the most critical problems we face today. New ways of sharing information allow herbaria to demonstrate the importance of plants and healthy ecosystems to an audience far beyond the scientific community.
About the Speaker
Barbara M. Thiers, Ph.D., is the Patricia K. Holmgren Director of the William and Lynda Steere Herbarium at The New York Botanical Garden, President of the American Society of Plant Taxonomists, and past president of the Society for the Preservation of Natural History Collections.
Her particular interest in the application of information technology to herbarium management and passion for increasing the scientific community's access to specimen-based data have led to the development of the C. V. Starr Virtual Herbarium, a searchable database of the Steere Herbarium's digitized specimens.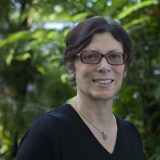 Purchase the Book from NYBG Shop
Newly released in December 2020, find Herbarium: The Quest to Preserve and Classify the World's Plants at NYBG Shop.