Holiday Train Show®
Family Benefit
Wednesday, November 29, 2017
4–8 p.m.
Enid A. Haupt Conservatory
This event is now SOLD OUT.
All aboard for a private viewing of NYC's favorite holiday tradition! Featuring a delicious dinner and an appearance by Chef Carla Hall, co-host of ABC's The Chew.
Celebrate the holiday season and experience the Holiday Train Show® like never before with this new and exciting family event. The festivities begin with a private viewing of the Holiday Train Show, passed hors d'oeuvres, a full bar, and plenty of treats for the kids. Then the fun moves to the Gingerbread Café, where kids can enjoy a hot chocolate bar and activities like apple cider pressing, woodland terrarium building, and cookie decorating with Carla Hall. Next, indulge in classic holiday recipes at a festive family dinner. And to really get you in the holiday spirit, the New York City Children's Chorus will be performing throughout the evening.
Proceeds support The New York Botanical Garden's Edible Academy, the hub of the children's vegetable gardening program. If you are unable to attend, please consider making a donation. For more information, please contact Heather Gries at 718.817.8657 or e-mail hgries@nybg.org.
CHAIRMEN
Ashley and Andrew Burr
Cristina and Christopher Cuomo
Elizabeth and Chris Davis
Emma and Todd Goergen
Kristy and Jonathan Korngold
Jennifer and Beau Lescott
Allison and Roberto Mignone
Alexandra Steel Scott and James Scott
Kate Solomon and David Wasserman
Julia and Ted Weld
HONORARY CHAIRMAN
Jill Joyce
GRANDPARENTS CHAIRMEN
Sandra Hughes
Martha Stewart
Carmen and John Thain
Sponsored by

Additional support by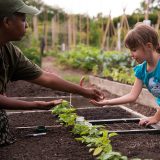 The Edible Academy, is a rich platform of education, hands-on activities, and programs that help children, families, and teachers learn about growing vegetables, fruits, and herbs while encouraging a lifelong interest in gardening and healthful living. Coming in June 2018, an expansion features a three-acre complex with a classroom building, greenhouse, and terraced amphitheater to accommodate a broader range of programs and double the number of people served each year.