Honey Infusion Workshop
Saturday, May 13, 2023
12:30–3 p.m. | Offsite
Location: New Roots Community Farm | 670 Grand Concourse, Bronx NY, 10451
As spring approaches and the bees gear up for another season of pollination and creating delicious honey, this workshop will focus on herbal infusions with raw honey. We will dive in on the benefits and medicinal properties of different herbal infusions and how they can be used as immunity boosters, for healing wounds, fighting off cold and flu symptoms, and combating infections and allergies, among many other benefits. We will be using locally sourced Bronx honey to create our own infusions to take home. The free workshop will be hosted by NYBG in partnership with New Roots Community Farm.
Support for the Humanities Institute is provided by the Mellon Foundation.
RSVP
Registration for this event is now closed.
About New Roots Community Farm
Since 2012, New Roots Community Farm Bronx has flourished as an urban oasis. The ½-acre lot is home to native plants, pollinators, traditional crops from around the world, fruit trees, communal garden beds, and a bountiful harvest. The multi-use educational and production farm provides a safe space to grow food and share traditions.
The New Roots Gardens Queens was activated for the 2020 season, resulting in vibrant community engagement centered around growing food and education. Both garden plots are about 2,500 sq. ft. and located in a large Southeast Asian community in Woodside, Queens. Many community members are involved in the garden and continue to amplify their work around engagement, growing food, and education. They are working on a new green initiative towards food security such as food box shares.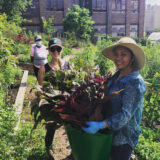 Samrah Shoaib is the Program Manager of The New York Botanical Garden's Humanities Institute and a trained community herbalist. Her passion lies at the intersections of food sovereignty and gender equity work.