Humanistic Uses of Herbaria
Friday, March 19, 2021
11 a.m. – 12:30 p.m. EDT
Herbaria, or collections of dried plants that usually include information about the place and time of their collection and the identity of the collector, have their roots in the sixteenth century and are of vital importance to the study and taxonomy of plants. Recently, they have acquired additional value as tools for tracking biodiversity loss or even as windows into past ecosystems. While their primary purpose is scientific, herbaria also have rich historical and even aesthetic dimensions. This program will focus on the history and relevance of herbarium collections, addressing the contemporary importance of herbaria to science and conservation. Four speakers will explore humanistic angles by engaging with history, the history of the book, art history, and contemporary art, thus placing the discussion at the intersection of the arts and sciences.
Co-presented by the NYBG Humanities Institute and the Plant Humanities Initiative at Dumbarton Oaks, in partnership with the NYBG William & Lynda Steere Herbarium
Barbara M. Thiers
Patricia K. Holmgren Director, William and Lynda Steere Herbarium, Vice President, and Curator of Bryophytes, NYBG
Presentation:
"History of the Herbarium"
For the past six centuries, scientists have been documenting the plants and fungi of the world through herbaria. Evidence suggests that herbaria as a tool for botanical research and education arose in northern Italy in the early 16th century, but today has spread to almost every country around the world. The basic preparation of the dried plant specimens that are housed in an herbarium has changed relatively little over time. But the invention of this simple technology was a key innovation in transforming the study of these organisms from a minor subdiscipline of medicine into an independent scientific endeavor.
Bio
Barbara M. Thiers is Patricia K. Holmgren Director of the William and Lynda Steere Herbarium at The New York Botanical Garden. She oversees the Garden's William and Lynda Steere Herbarium, the largest herbarium in the Western Hemisphere, and third largest in the world.
She is also the Editor of Index Herbariorum, the online guide to the world's approximately 3400 herbaria and 12,000 associated staff. She is particularly interested in the application of information technology to herbarium management, and to increasing access to specimen-based data for the scientific community. She is President of the American Society of Plant Taxonomists (2020–2021), Past President of Society for the Preservation of Natural History Collections (2020–2022), a member of the Board of the Natural Science Collections Alliance, and member of the External Advisory Board of iDigBio, the national collections digitization hub. In addition, she is co-author of the recent National Academies of Sciences and Engineering report on biological collections.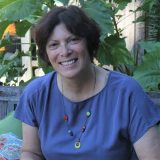 Pamela Soltis
Director of the Biodiversity Institute, University of Florida
Presentation:
"Herbaria as Arks of Evolutionary History and Foundations for Plant Conservation"
Herbaria, with specimens spanning space and time, provide unparalleled resources for plant science. Preserved plant tissues are reservoirs of genetic information that can be used to reconstruct the evolutionary history of plants. The resulting family tree provides a foundation for basic biology and for solving many societal problems, such as food insecurity and the search for new medicines. Digitized herbarium specimens (data and images) also offer new research opportunities, particularly in relation to climate change and conservation. Case studies showing how high-throughput molecular analysis and artificial intelligence can be applied to centuries-old herbarium specimens will be presented.
Bio
Pamela Soltis is a Distinguished Professor and Curator in the Florida Museum of Natural History at the University of Florida and serves as Director of the UF Biodiversity Institute. Her main research interests are flowering plant evolution and the use of natural history collections in biodiversity research. She and her collaborators have obtained DNA sequences from herbarium specimens that date back 100 years or more, providing insight into plant species relationships. Her recent work on digitized herbarium specimens—including the use of artificial intelligence—has led to novel studies of plant diversity and conservation. Working with a team of colleagues, she combines science and art in public outreach, focusing on understanding, interpreting, and using the Tree of Life. She has served as President of multiple professional societies and is currently Past-President of the American Society of Plant Taxonomists. She is a member of the National Academy of Sciences and a Fellow of the American Academy of Arts and Sciences.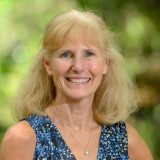 Anatole Tchikine
Curator of Rare Books, Dumbarton Oaks, Harvard University and Co-Investigator, Plant Humanities Initiative
Presentation:
"Herbarium Specimens in the Dumbarton Oaks Rare Book Collection"
Among the holdings of the Dumbarton Oaks Rare Book collection there is a small number of items that feature pressed and dried plants, occasionally with added packets containing seeds, used in place of botanical illustrations. What was the rationale behind the inclusion of these herbarium specimens? How did their use compare with that of printed or hand-drawn images of plants? This talk attempts to answer these questions by focusing on a particularly curious volume, Johannes von Buchwald's Specimen medico-practico-botanicum (1721).
Bio
Anatole Tchikine is Curator of Rare Books at Dumbarton Oaks, where he is also co-investigator of the Plant Humanities initiative. An architectural historian and a specialist on early modern Italy, he holds a Ph.D. from the University of Dublin, Trinity College. His work mainly addresses the intersections of art and science, including the history of fountain design, botanical gardens, and collecting and representations of nature. His articles and book reviews have appeared in Studies in the History of Gardens & Designed Landscapes, Renaissance Quarterly, Places Journal, and Dumbarton Oaks symposia volumes, among other internationally recognized publications. He is the author, with Pierre de la Ruffinière du Prey, of Francesco Ignazio Lazzari, "Discrizione della Villa Pliniana": Reimagining Antiquity in the Landscape of Umbria (2021), co-editor of The Botany of Empire in the Long Eighteenth Century (2016), and Military Landscapes (2021), as well as editor of The Three Natures: Gardens and Landscapes of the Italian Renaissance (forthcoming).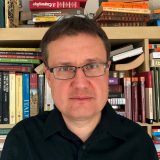 Yota Batsaki
Executive Director, Dumbarton Oaks, Harvard University and Principal Investigator, Plant Humanities Initiative
Presentation:
"The Apocalyptic Herbarium: Anselm Kiefer's Secret of the Ferns (2007)"
Herbarium specimens are invaluable scientific data, snapshots of past ecosystems, but also aesthetic objects, depending on their context. The talk will explore the use of dried ferns in Anselm Kiefer's installation Secret of the Ferns (2007) in the Martin Z. Margulies Collection. Presented as herbarium specimens of monumental scale in a post-apocalyptic gallery environment, the ferns have rich symbolic significance. Long associated in plant lore with magic and invisibility, ferns are also living fossils connected to deep geological time, and a source of the fossil fuels that stoke global warming. Kiefer's installation is an example of contemporary art drawing inspiration from natural history collections. In its use of the herbarium, Kiefer's Secret of the Ferns is also a reflection on species extinction, loss, but also the possibility of creative transformation.
Bio
Yota Batsaki is the Executive Director of Dumbarton Oaks, a Harvard research institute, museum, and historic garden located in Washington, D.C. She holds a Ph.D. in comparative literature from Harvard University and was previously a lecturer and fellow at St. John's College, Cambridge. Her interest in the cultural histories of plants goes back to a 2013 conference she organized at Dumbarton Oaks on The Botany of Empire in the Long Eighteenth Century. She leads the Plant Humanities Initiative, funded by the Andrew W. Mellon Foundation, a collaboration between Dumbarton Oaks and JSTOR Labs to develop a digital platform and associated scholarly programming to further the emerging field of Plant Humanities.