Kiku
October 28–November 12, 2023
10 a.m.–4 p.m. | At the Garden
Seasonal wonders just around the corner
Don't miss a spotlight on kiku displays in the Nolen Greenhouses, featuring Japanese chrysanthemums that have been expertly trained over the past 11 months into modern and ancient styles, offering color up close with these fall-favorite blooms. Seasonal chrysanthemums in warm, rich hues complement this must-see spectacle.
Get a glimpse into the art of training kiku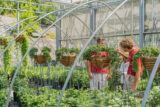 All of our kiku, or Japanese chrysanthemums, are grown here at NYBG in our Nolen Greenhouses for Living Collections—a process that takes 11 months!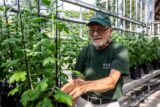 Our horticulturists work year-round to care for these plants as they grow, and begin training them into their future shapes by trimming back extra flowering stems, allowing the plant to pour its energy into select blooms.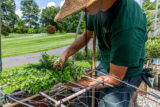 Many of our kiku designs are carefully woven onto bamboo frames to create displays of flowers that represent mountains, cascading waterfalls, and other fantastical shapes perfected over centuries in Japan.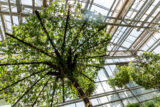 Other kiku designs are contemporary takes on the artform by our horticulturists, like this whimsical parasol.
As the plants grow, the diverse designs fill their space in the Nolen Greenhouses with bright green foliage. To ensure they all flower at once for their big reveal, our staff needs to carefully control the light, blocking out the sun at key points to encourage the plants to flower in a shorter timeframe.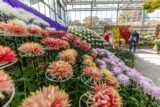 After nearly a year of hard work, working closely with each and every plant on display, kiku bursts into bloom in the fall...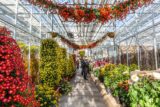 ...And the results make it all worth it!
Presenting Sponsor: