Lucian Freud's Paintings of Plants—From Symbolism to Truth
Friday, December 4, 2020
11 a.m. – 12 p.m.
While Lucian Freud's international reputation as a master of portraiture remains undisputed, his ability to capture the elusive essence of plants is mostly unacknowledged. Leaves, branches, and blooms were among the artist's favorite subjects throughout his formative years. The linear neatness of his early works deliberately flirted with surrealist effects and symbolic references. But his later paintings of plants searched for something deeper and much more original.
The artist wasn't interested in the beautiful and rare varieties we see in botanical illustration. Instead, he painted weeds, garden shrubs, and the straggly potted plants in his home. And in every instance, he never felt compelled to perfect or beautify his botanical subject. Instead, Freud layered the canvas to unveil a kind of painterly-existentialist truth he saw in his plants—something that can only be revealed through painting when brushstrokes dare to speak where language fails.
About the Speaker
Dr. Giovanni Aloi is an author, educator, and curator specializing in the representation of nature and the environment in art.
He has published with Columbia University Press, Phaidon, Laurence King, and Prestel. Since 2006, Aloi has been the Editor-in-Chief of Antennae: The Journal of Nature in Visual Culture. He is the author of, among others, Art & Animals (2011) and Speculative Taxidermy: Natural History, Animal Surfaces, and Art in the Anthropocene (2018), Why Look at Plants? – The Vegetal World in Contemporary Art (2019) and Lucian Freud Herbarium (2019). In 2017 Aloi was appointed co-editor of the 'Art after Nature' series published by the University of Minnesota Press and has recently become USA Correspondent for Esse Magazine. He is a radio contributor and a regular public speaker at the Art Institute of Chicago and has curated exhibitions in the US and abroad. Aloi currently lectures on modern and contemporary art at the School of the Art Institute of Chicago and Sotheby's Institute of Art in New York and London.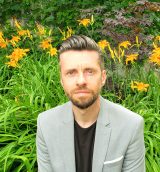 Above: Cyclamen (detail), Lucian Freud, 1964