Natural Dyes: The Colorful World of Katie Bronson
Through October 1, 2023
10 a.m.–4 p.m. | At the Library
Inside the LuEsther T. Mertz Library, discover the work of NYBG Gardener Katie Bronson as she shares one of her other passions alongside horticulture: natural dyes. Using plant materials from the Garden otherwise destined for the compost heap, Bronson has achieved a wide variety of colors while dying wool, alpaca, and hemp—and many of the plants she uses might be familiar!
From rosemary and avocado skins to sweetgum leaves and more, discover the age-old process of natural dying with the help of the Library's renowned collection of floras and botanical illustrations, elaborating on each of the species and plant parts Bronson uses to capture these hues.
Dive Deeper
Explore the exhibition online with NYBG Libguides, where you'll learn about the dyeing process in Katie Bronson's own words and peruse samples of her work.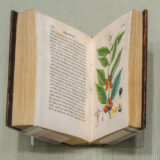 Learn Natural Dyeing at NYBG
October 27, 2023; 10 a.m.–1 p.m.
Inspired to give this craft a try for yourself? Join us at NYBG for a Continuing Education course to get you started! Learn how to dye fibers naturally and explore techniques for repurposing your food scraps to create a brilliant color palette.