New Studies in Food Humanities—The Mellon Fellows Presentations
Thursday, May 18, 2023
12 p.m. | Online
Every year, the Humanities Institute's Mellon Fellows give a Research Report showing how they use the historical collections of the LuEsther T. Mertz Library, the Archives, the William and Lynda Steere Herbarium and the Garden's Living collections to further their studies. Their presentations stimulate critical thinking in the field of Food and Plant Humanities and invite relevant public discourse.
Claire Bunschoten, Ph.D.
Vanilla Extract(ions): Thinking with the Vanilla Orchid
From lattes to scented candles, vanilla flavors contemporary life in the United States. Although vanilla appears familiar, ordinary, even boring, its production is the result of extraordinary human infrastructure that isn't sustainable and needs to be radically reimagined.
This talk analyzes a few key moments of technological innovation in vanilla's long history, from the 19th-century invention of the vanilla orchid's "marriage," to the 21st-century genetic engineering of e. coli bacteria to synthesize "natural" vanillin from plastic bottle waste. These scientific interventions attempt to solve the same problem: the vanilla orchid's resistance to capitalist logics of efficiency.
Dr. Bunschoten researches American food history in relation to systems of power. She recently completed her Ph.D. in American Studies at the University of North Carolina at Chapel Hill. Her dissertation, and future book project, "Extracts, Essences, and Political Effects: How Vanilla Shapes American Life," examines vanilla as a flavor, fragrance, and euphemism for race to reveal how it contests and reifies boundaries of identity in the United States.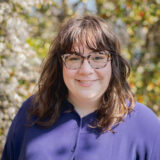 Audrey Jenkins
Growing Possibility: Exploring Community Gardens as Democratic Infrastructure in Social-Ecological Change
Chickens, bees, and fruit trees, once common sights in the Bronx, NY, have increasingly found their way back to the borough thanks to community garden and farm initiatives over the past 50 years. This return, however, carries a distinct history and politics from the borough's earlier agrarian identity.
Audrey's research explores how, in resistance to racist policies and urban development practices, Bronx community gardeners challenge various social, material, and political logics through radical reimaginings of access and participation in urban land stewardship. This talk highlights the historical and continued potential of community gardens as infrastructure in democratic processes of transformation in the borough and beyond.
Jenkins is a Ph.D student of Public and Urban Policy at The New School, New York, studying social-ecological transformation in the context of migration. She has a Masters of Public Health from Columbia University and dual BA in political science and BS in molecular biology from Purdue University. Prior to her current studies, Audrey worked as a project coordinator in the medical office at the NYC Department of Homeless Services, and is a co-chair for the annual community-led Hike the Heights celebration in uptown Manhattan that happens every first Saturday in June.