Pressed for Time: Plants & Climate Change
Friday, September 27, 2019 – Sunday, September 29, 2019
12 – 3 p.m.
Herbarium Open House
Explore ways that scientists use plants to study climate change during a behind-the-scenes visit to the Steere Herbarium, one of the largest collections of specimens that have recorded plant life on our planet for the past 300 years. See mosses and lichens from the changing landscapes of the Arctic, wild relatives of crops that could be studied to develop more sustainable agriculture, and species that no longer grow on Earth. Try your hand at some of the methods scientists use to study these plants, and participate in our citizen science projects that help us digitize our collections and make them an online resource for climate researchers around the world.
Get Involved with Our Latest Virtual Expedition
Join us on an important virtual citizen science expedition focused on Alpine flowers and climate change. No matter where you're located, you can log in and help generate valuable data used to document biodiversity and protect threatened ecosystems.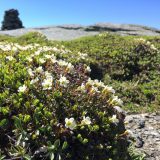 Discover More Virtual Expeditions
There are plenty of ways to get involved as a Virtual Volunteer year-round. You can contribute to scientific research from anywhere as an active participant in one of our digital expeditions. Online training resources are available. All active virtual participants are eligible to receive NYBG volunteer benefits.