About the Rockefeller Rose Garden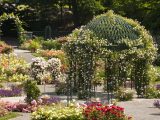 In winter 2006–2007, thanks to continuing support from Mr. Rockefeller, the site underwent additional renovations. Today the Rose Garden, with nearly 700 varieties, is one of the most beautiful and popular sights at the Botanical Garden.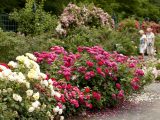 In 1916 eminent landscape architect Beatrix Farrand designed a rose garden for The New York Botanical Garden. Mrs. Farrand's triangular arrangement fit the irregularly shaped site perfectly. She envisioned a center arbor and iron lattice fences for climbing roses with radiating paths and beds showcasing dozens of different roses.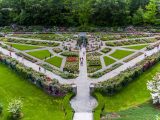 Her design was only partially realized, but in 1988 with a generous gift from David Rockefeller the garden was restored and completed. The new garden was named in honor of Mr. Rockefeller's wife, Peggy, an ardent horticulturist and conservationist, who loved roses.