Seeing Trees: A History of Street Trees in New York City and Berlin
Friday, February 1, 2019
11 a.m. – 12 p.m.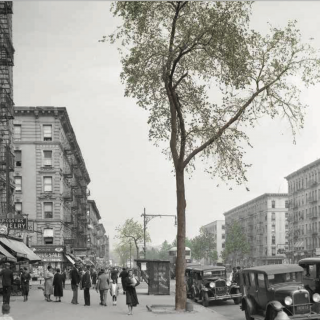 Today, cities around the globe are planting street trees to mitigate the effects of climate change. However, as landscape historian Sonja Dümpelmann explains, this is not a new phenomenon. In her new book, Seeing Trees: A History of Street Trees in New York City and Berlin, Dümpelmann shows how New York City and Berlin began systematically planting trees to improve the urban climate during the 19th century, presenting the history of the practice within its larger social, cultural, and political contexts. Street trees—variously regarded as sanitizers, nuisances, upholders of virtue, economic engines, habitat, and more—reflect the changing relationship between humans and nonhuman nature in urban environments. The lecture is followed by a book signing and viewing of works from the Mertz Library collection.
Please enter the Garden through the Mosholu Entrance, 2950 Southern Boulevard, Bronx, NY 10458, and check in at the LuEsther T. Mertz Library, 6th Floor.
About the Speaker
Sonja Dümpelmann is a landscape historian and Associate Professor of Landscape Architecture at the Harvard University Graduate School of Design. Her work focuses on 19th- and 20th-century urban landscape history in the Western world and the intersections of landscape, science, technology, and the environment.
She is the author and (co-)editor of numerous books, most recently Seeing Trees: A History of Street Trees in New York City and Berlin (Yale University Press, 2019). She has served as President of the Landscape History Chapter of the Society of Architectural Historians and serves as Senior Fellow in Garden and Landscape Studies at the Dumbarton Oaks Research Library and Collection, Washington, DC. She lectures internationally and was appointed 2015 August-Wilhelm Scheer Visiting Professor at the Technical University Munich.