Spotlight on Orchids
Saturday, February 20, 2021 – Sunday, April 4, 2021
10 a.m. – 6 p.m. | At the Garden
A visit to select galleries of the Enid A. Haupt Conservatory reveals intimate displays of orchids in brilliant white and striking colors set against the foliage of aroids, ferns, and bromeliads—planted as they might be found in nature and blending gracefully with their surroundings. Discover unusual orchids from NYBG's renowned collections, as well as artful floral creations by Garden horticulturists that combine expressive orchids with rocks, tree trunks, vines, and other found materials.
Continuing with reduced indoor capacity, we are forgoing our traditional orchid exhibition this year in favor of a limited Spotlight on Orchids and other permanent plant collections in the Haupt Conservatory. We are pleased to offer access to the Conservatory and Spotlight on Orchids to all visitors with a Garden Pass + Conservatory ticket, and we look forward to the return of The Orchid Show in 2022.
About Orchids: Care & Tips
Orchids come in all sizes and colors, making them a favorite at home and at NYBG. Explore orchid care tips and videos and learn more about the diverse world of orchids from home.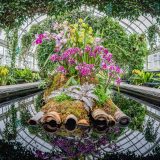 Orchid Conservation
The New York Botanical Garden maintains the highest horticultural standards of orchid conservation, working tirelessly to ensure the preservation of the Orchidaceae family—the most varied in the plant kingdom.
In spite of strict international regulations, many wild orchids today are under severe threat of extinction from over collection, poaching, and destruction of their native habitats. The Convention on International Trade in Endangered Species (CITES) is an agreement between governments to ensure that international trade of wild plant and animal specimens (and products made from them) does not threaten their survival.
In accordance with this agreement, all such shipments must be properly documented. In the case of live plants, it must be shown that the plants have been bred in cultivation and not taken directly from the wild, thus potentially harming rare species. Improperly documented shipments are seized at international borders and sent to Plant Rescue Centers (PRC), which have proper facilities to care for them. As a designated PRC since 1990, The New York Botanical Garden has received and tended thousands of plants through this program.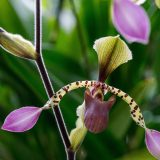 NYBG Shop
Leon Levy Visitor Center
Open during regular Garden hours
Choose from a selection of top-quality orchids, from exotic, hard-to-find specimens for connoisseurs to elegant yet easy-to-grow varieties for beginners.
Expert staff will be on hand to provide tips on orchid care and help you select the best orchid to purchase for your home. Purchases in the Shop and online support the Garden's pursuit of excellence in horticulture, plant research and conservation, and education.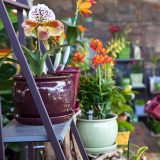 Orchid Classes
Whether you need a refresher on potted orchid care or want to learn how to successfully grow native species in your own backyard, we have a class for you!