The Food Dialogues:
Matthew Raiford in Conversation with Jessica B. Harris
Friday, April 29, 2022
11 a.m. | Online
"Chefarmer" Matthew Raiford joins Jessica Harris for an in-depth conversation covering Raiford's heritage-based approach to food and farming. After returning to Georgia and resurrecting his family farm on land his great-great-great grandfather Jupiter Gilliard began buying after he was emancipated, Raiford is at the center of a community brought together by the cuisine of his Gullah Geechee heritage.
About Matthew Raiford
A chef, horticulturist, and owner of Gilliard Farms, Matthew Raiford grew up "breaking the dirt, raising hogs and chickens, and rarely going to a grocery store."
His 2021 cookbook Bress 'n' Nyam—"Bless and Eat" in the English-based creole of the Gullah Geechee people of the Carolina, Georgia, and northern Florida coasts—pays tribute to the land, food, and heritage that has nurtured his family for seven generations. A 2018 semifinalist in the James Beard Awards Best Chef in the Southeast category, Raiford has been featured in the New York Times, Bon Appetit, and Southern Living.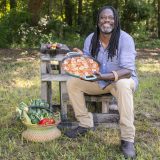 About Jessica B. Harris
Dr. Jessica B. Harris is America's leading scholar on the food and foodways of the African Diaspora.
In 2020 she received the James Beard Lifetime Achievement Award, and last year her 12th book on food, High on the Hog, inspired a four-part Netflix series that earned raves from The New York Times, Esquire, and others. Dr. Harris was named one of Time magazine's 100 Most Influential People of 2021.