The Lost Flowers of Alice Hart: Holly Ringland in Conversation with Sarah Lambert
Thursday, August 24, 2023
7–8 p.m. ET | Online
The Lost Flowers of Alice Hart, the international best-selling novel by Holly Ringland, has been adapted into a Prime Video series starring NYBG Trustee Sigourney Weaver starting August 4, 2023.
The Lost Flowers of Alice Hart follows the story of a 9-year-old girl taken to live with her grandmother June (played by Weaver) at Thornfield flower farm, after tragically losing her parents in a mysterious fire. On the flower farm, Alice learns to find solace amongst the native wildflowers and plants that sweep Australia's breath-taking natural landscape. Family secrets come to light as Alice's journey unfolds and she is forced to weed her way through her family's past. In a tale that explores the symbolic language of flowers and interwoven connections to the land, Alice discovers that to move forward, she needs to unlock the past.
Join author Holly Ringland and show-runner and producer Sarah Lambert for an exclusive conversation about how they brought these pages to life on screen, their deep respect for each other's work, and the transformative power of the language of flowers across both time and cultures.
Holly Ringland is the author of the internationally bestselling and award-winning novel The Lost Flowers of Alice Hart. In 2021, Holly was TV co-host of Back to Nature, ABC's visually stunning and critically acclaimed series. Holly's new novel, The Seven Skins of Esther Wilding, was published by HarperCollins Australia in October 2022 and will be published in North America by House of Anansi in February 2024.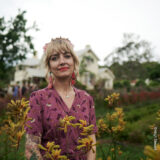 Sarah Lambert is the creator, writer, and producer of the smash-hit Australian drama Love Child. More recently, she was the writer and show-runner of two major literary adaptations, the multi-award winning drama, Lambs of God based on Marele Day's novel, and the critically acclaimed The Messenger based on Markus Zusak's global best-seller. Sarah has had a long career writing on some of Australia's top drama series, including the critically-acclaimed and award-winning Love My Way and A Place to Call Home.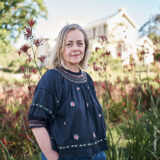 If you are an active member of NYBG, please contact membership@nybg.org for an exclusive offer on this virtual lecture!