Urban Foraging: Food, Sustainability, and Survival
Friday, July 22, 2022
11 a.m. | At the Garden
Clinical herbalist, educator, and foraging practitioner Journei Bimwala leads an in-person workshop that shows you where and how to find healing plants even in the midst of the city. Discover the surprising abundance of edible and medicinal plants in the Bronx, right outside our doorstep. Explore important legal, social, and race-related issues affecting contemporary foraging, from specific plants used by BIPOC communities to promote well-being, to ongoing battles to repeal anti-foraging laws. This session examines both the practical methods and traditional roots of foraging, and asks whether urban foraging can be an act of land reclamation—and even a way to build community—in the Bronx and beyond.
Following the discussion, pre-registered attendees are invited to join Journei Bimwala for an hour-long foraging walk through the Garden, where they can learn to identify specific local plants for daily use. Space is limited; please register in the dedicated RSVP below.
About the Speaker
Journei Bimwala is a well-known Bronx forager, herbalist and Bronx community leader, who is passionate about educating local families on how to use native plants for health and well-being.
Growing up in Kinshasa, the Democratic Republic of the Congo, she learned to forage alongside her grandmother, and continued developing her skills in woods and meadows when she moved to France. Her background is a mix of ancestral knowledge, oral histories, observations in nature and formal courses in botany. Since 2017, she has been co-chair of the Bronx River Foodway at Concrete Plant Park, one of New York City's rare sustainable food landscapes and its only edible food forest where people can forage legally. She is CEO and founder of EachOneCarryOne, whose mission is to improve and sustain the health and wellness of Black families within the African Diaspora.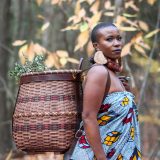 The Foodways Workshops Series is presented by the Humanities Institute with generous funding by the Mellon Foundation.
Register for the Talk
This talk is now at capacity and can no longer accept new registrations.
Register for the Walk
This walk is at capacity and can no longer accept new registrations.
Foraging Walk limited to 20 attendees