Vanishing Art: A Living Gallery
Various Dates
12 p.m. | At the Garden
Join us for interactive demonstrations from chalk art to improvisational performance! You'll find artistic pop-ups across Garden grounds that focus on sustainability in art and art that leaves minimal traces on the environment.
Pop-Up Chalk Designs
May 27 & 28; June 3, 24, & 25; July 1, 2, 15, 16; August 5, 6, 26, & 27; September 2, 3, 4, 23, 24 & 30; October 1, 8, 9, 15, 21 & 22: 12–3 p.m.

Keep an eye out for botanical images that emerge across the Garden's landscape – this time through the lens of chalk artists Ben Young III.
Ben Young is a freelance artist, Urban Park Ranger, and music educator. He uses his art skills to help people advertise, celebrate special moments, and enjoy the beauty of the natural world. See more of his work on his website or find him on social media @chalkartnyc.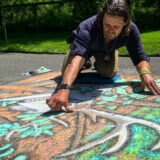 Symmetrical Lives
October 14
12–3 p.m.
Conservatory Plaza
Symmetrical Livesis a site-specific production of J. S. Bach's beloved Orchestral Suite in B-minor, created by flutist Zara Lawler, violinist Maja Cerar, and choreographer C. Neil Parsons.
The creation emerged from the pandemic experience and the artists' desire to be together safely in a natural environment that afforded freedom of expression and room to play. Lawler, Cerar, and a string trio all dance and play at the same time, exploring musical and physical ideas of balance and imbalance, equality and inequality, symmetry and asymmetry, isolation and togetherness – what is hidden and what is revealed.
Performers:
Zara Lawler, flute
Maja Cerar, violin
C Neil Parsons, choreographer
Rebecca Fischer, violin
Colin Brookes, viola
Alexis Pia Gerlach, cello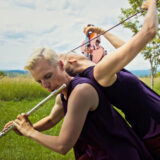 ¡Corre, Abuelita, Run! with New York City Children's Theater
October 7
12 & 2 p.m.
Edible Academy Amphitheater
¡Corre, Abuelita, Run! is an interactive bilingual, Spanish and English, performance that uses language, music, puppetry, and movement to explore the vibrant and diverse neighborhoods of New York City.
¡Corre, Abuelita, Run! celebrates and explores the power of community, the joy of intergenerational family relationships, New York City, and the importance of language and traditions.
About the New York City Children's Theater
New York City Children's Theater's mission is to promote children's literacy and social development through sustainable, accessible professional theater productions and arts-in-education programs. Our programs cultivate children's growth in the areas of emotional intelligence, community building, and responsible decision-making. The result is empathetic, creative and independent thinkers who make a positive impact on their world.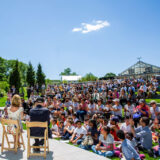 Poetry Readings
June 17, 18, & 19; July 8, 9, & 23; August 12, 13, & 20; September 9 & 10: 12–3 p.m.

Join us for a special reading from youth poets and their mentors at Urban Word! Readings will include pieces from celebrated poets who have engaged with the artistic work of NYBG's summer 2023 exhibition artist, Ebony G. Patterson.
See our lineup of performers below:
July 8
Miah Prescod is a writer and artist from Brooklyn, NY. Her first full-length collection of poems is titled Black Girl Diary, which she self-published in the Fall of 2020 followed by her chapbook, Song of the Brown Girl. Her poetry centers around her identity as a young Black woman and explores her femininity, self-love, and more.
July 9
Stephanie Pacheco is the 2023 NYC Youth Poet Laureate from The Bronx. Stephanie is an advocate for educational equity and social justice across New York City. Her poetry and advocacy have been highlighted by The New York Times, and her goal is to continue uplifting and connecting with her community using her words as tools for liberation.
July 23
Fanta Ballo is a poet, artist, and activist from Harlem, New York. She has collaborated with artists like Idina Menzel, Jeanine Tesori, Shihan Van Clief, and Ayodele Casel and champions other young artists with her work.
August 12
Samuel "Samson" Maldonado is a poet, songwriter, and teaching artist hailing from New York City. Samson was a 2010 McCafe Poetry Slam Finalist and has opened up for hip hop artist B.O.B. His work has been published in Pioneer Magazine as well as on retrowrites.com and spokenwordnewyork.com.
August 13
Anyrah Shavéh (She/Her) is an award-winning poet and author from New York City by way of Flint, Michigan. She creates thought-provoking and inspirational poetry rooted in women's empowerment, Black feminist traditions, and critiques of societal norms. Shavéh's debut collection of poetry, water the flowers in your hair, was published in 2020 and she is a teaching artist and workshop facilitator.
August 20
Kearah-Armonie (Kearmonie) is an Afro-Caribbean multidisciplinary artist from Brooklyn, NY. As a current ICA (Innovative Cultural Advocacy) Fellow with Caribbean Cultural Center African Diaspora Institute, Kearmonie is invested in uplifting others through mutual aid and transformative justice. Kearmonie started performing spoken word in 2011with Urban Word NYC and is now a mentor and teaching artist.
September 9
Miah Prescod is an artist and a first-generation American writer of Trinidadian descent. Born and raised in Brooklyn, she is also a recent graduate of Sarah Lawrence College. She is an NYC Youth Poet Laureate Ambassador and Black Girl Magic Fellow, and writes about what matters most to her: her Caribbean culture, religion, womanhood and Black motherhood, and much more.
September 10
Drew Drake is an actor, poet, emcee, and educator from Huntsville, Alabama currently residing in NYC, focused on creating art that facilitates healthy dialogue for people of color. Drew is currently the Poet-in-Residence and teaching artist with Urban Word NYC, as well as a Professor at New York University, teaching Voice and Speech at Tisch School of the Arts. Learn more at thedrewdrake.com.
Image by Urban World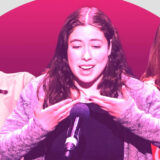 "so, maybe I can talk a bit more"
August 19
12, 1 & 2 p.m.
Conservatory Plaza

Artist and director Fana Fraser presents "so, maybe I can talk a bit more", a solo performance in response to Ebony G. Patterson's …things come to thrive…in the shedding…in the molting…
Drawing from her own research and practice centering desire, power, and compassion, Fraser will call forth the animacy of the Garden, the exhibition, and all the elements festering among us.
About the artists:
Fana Fraser is an interdisciplinary artist, and director from Trinidad and Tobago. A 2022 BAM (Brooklyn Academy of Music) Artist in Residence and 2021-22 Jerome Hill Artist Fellow in Dance, Fana teaches as an adjunct professor at University of the Arts.
Benedict Nguyễn is a dancer, writer, and creative producer. A 2023 Periplus Fellow, her recent projects include their curatorial platform "soft bodies in hard places."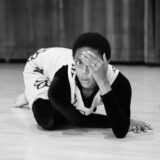 On Display with Heidi Latsky Dance
July 22
11 a.m.–2 p.m.

Heidi Latsky Dance presents ON DISPLAY. Heidi Latsky Dance is an NYC-based and physically-integrated company, creating daring work with people with disabilities since 2006.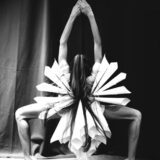 Field Trip: Mushroom & Plant Music with Modern Biology
July 5
12–1 p.m.
Native Plant Garden

Using silent disco-style headphones, small groups of participants will listen to the bioelectricity of flora and fungi as translated into relaxed, ambient soundscapes, and supplemented with live musical improvisation.
This experience brings us into a deeper connection with the natural world – and ourselves. Tarun uses modular synthesis, home-built synthesizers, and other analog equipment to improvise with the natural vibrations of a certain place and time via plant bioelectricity, latent electromagnetic radiation, and even the earth's resonant hum.
About Modern Biology:
With over 100 million views on his tiktok videos, Modern Biology has brought plant music to the masses. Originally educated as a biologist, veteran musician Tarun Nayar brings his passion for nature and sound together in an ambient project that is organismic, immediate, uplifting, and deeply contextual. He has been featured by the BBC, The Guardian, LA Times, Vice and more, and performed at Art Basel, MOCA (LA) and the Vancouver Art Gallery.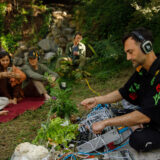 Floral Art
June 10, 2–5 p.m.; July 29 & 30: 12–3 p.m.

Drawing from the natural world, Joshua Werber's work is an exploration of emotion through the act of creation. His work is driven by a desire to create unique pieces and environments through which the participant can experience transformation. His work has been featured in T Magazine, Vogue, Elle India, The New York Times, and The New York Post. Learn more from Joshua in his NYBG classes.