WeDigBio Webinar: Spotlight on Herbarium Research—Epiphytes!
Friday, April 9, 2021
11 a.m. – 12 p.m.
Citizen Scientists have contributed to rapid acceleration in the digitization of botanical specimens in the past decade, resulting in unprecedented access to information about the plants of our world. This expansion has enabled new research applications, boosted the efficiency of species discovery, and encouraged collaboration across continents. During this hour, listen to perspectives from three botanists who study plant families included in NYBG's Virtual Herbarium Expeditions, and learn how they use digitized specimens and data for biodiversity research and conservation.
Orchids
Matthew Pace, Ph.D.
Assistant Curator, New York Botanical Garden, U.S.
Dr. Matthew Pace is Assistant Curator of the William and Lynda Steere Herbarium at NYBG. His research interests focus on orchids: their evolution, relationships, morphology, taxonomy, and biogeography. As Principal Investigator of the NSF-funded project "Digitizing 'Endless Forms': Facilitating Research on Imperiled Plants with Extreme Morphologies," Matthew coordinates efforts between 17 US herbaria—and hundreds of citizen scientists around the world—to document botanical collections and aid researchers seeking to study and conserve plant biodiversity.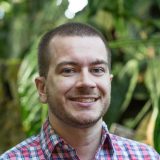 Ferns
Alejandra Vasco, Ph.D.
Research Botanist, Botanical Research Institute of Texas, U.S.
Dr. Alejandra Vasco studies the biology of ferns, encompassing their evolutionary history, systematics, taxonomy, and evolutionary development. Her main research interests are the taxonomy and systematics of the fern genus Elaphoglossum, and the development and evolution of leaves in ferns. Alejandra obtained her B.Sc. from the University of Antioquia, in her native Colombia, and her Ph.D. as part of the joint program between the City University of New York and The New York Botanical Garden. She is currently a researcher at the Botanical Research Institute of Texas.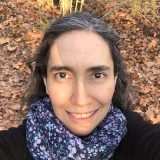 Bromeliads
Julián Aguirre-Santoro, Ph.D.
Assistant Professor, Instituto de Ciencias Naturales, Colombia
Dr. Julián Aguirre-Santoro is a botanist and evolutionary biologist dedicated to studying the evolution and taxonomy of bromeliads. He is currently an Assistant Professor at the National University of Colombia and herbarium curator at the National Herbarium of the same country, where he leads several projects on bromeliad conservation, diversity, and evolution in Colombia. Dr. Aguirre-Santoro also conducted research at The New York Botanical Garden and the National Museum of Rio de Janeiro (Brazil), where he carried out botanical expeditions in the Atlantic Forest of Brazil, the Greater Antilles, and northwestern South America, resulting in several publications on the taxonomy and evolution of the berry-fruited epiphytic bromeliads.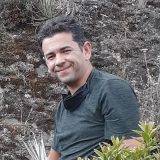 See our full schedule of WeDigBio events (April 8–9) here.