Wine & Water Lilies
Saturday, July 15; Saturday, July 29; Thursday, August 17
3–6 p.m. | At the Garden
Sip & Savor Summer in Our Collections
Launching during the summer run of …things come to thrive…in the shedding…in the molting…, and inspired by NYBG's successful Orchid Nights and Spring Uncorked wine weekend special programs, the all-new Wine & Water Lilies will entice visitors to take in the stunning lotuses and water lilies in the Enid A. Haupt Conservatory Courtyards with a drink in hand. Enjoy live music, workshops, and demos inspired by the water lily and lotus collections in the Enid A. Haupt Conservatory Courtyards. Light food and drink will be available for purchase.
Access to this program is included with purchase of an All-Garden Pass.

Light Bites & Drinks
Make the most of your afternoon among the water lilies with a selection of wine, cocktails, and sweet and savory treats available for purchase.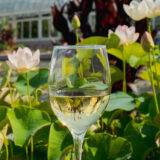 Art in the Collection
Join us for drop-in art workshops that spotlight our water lily and lotus collections.
Watercolor Workshop
July 15
Join artist Naomi Andrée Campbell for guided watercolor sessions inspired by the surrounding aquatic plants! Naomi is a New York-based interdisciplinary artist whose multimedia practice explores sense and perception, combining art and science through a wide spectrum of studio and new media art.
Embroidery Workshop
July 29 & August 17
Bring the water lilies to life with a needle and thread with artist Catherine Herrick Lewis! Lewis' creative practice includes illustration, works on paper, and embroidery. She is an Associate Professor in the Design Program at Hostos Community College (CUNY) in the South Bronx and teaches Illustration, Foundation Drawing, 2D Design, and Web Design.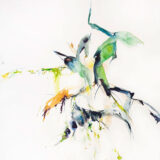 Music in the Collection
Enjoy musical performances that celebrate the beauty of the garden in summer!
Haley Grey
July 15
Haley Grey is a jazz vocalist and songwriter exploring themes of love and spirituality. Currently based in New York City, she has performed across the city, including at the Havana Jazz Plaza Festival. For this performance, she is accompanied on bass guitar by Yves-Gérald Délice.
Ayanna the Singer
July 29
Born and raised in the Bronx, Ayanna is both experimental and versatile, crafting a sound that has attracted many due to its raw and authentic essence. She currently has two EPs available, Love Box and Delicate. Ayanna is also the creator of Uptown Melody, a performance series dedicated to highlighting Bronx Artists through live music events.
Lillimure
August 17
Influenced by melodies of her multicultural upbringing, the New York-based artist draws from introspective lyricism and pulsing groove to create her unique sound. Lillimure and her band recently recorded and submitted for NPR's 2023 Tiny Desk Contest, with guest vocalists Jackson Craig, and Wayne Wilson.
Image Credits: Ayanna the Singer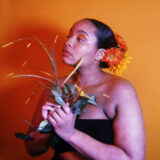 Ask the Expert
Meet a member of our Horticulture Team to learn all about the water lilies, lotuses, and other aquatic plants that make up this collection. From the prehistoric-looking, platter-like leaves of the Victoria cruziana to the vibrant hues of the tropical water lilies, these heat-loving plants never fail to put on a spectacular performance.
See below for the lineup of Horticulture Staff for our events:
July 15 – Jeffrey Ye
July 29 – Jessica Savage
August 17 – Renee Dillon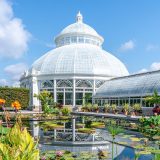 Explore our stunning Lotus and Water Lily Collection!