Winter Lecture Series 2018: Edwina von Gal
Thursday, March 29, 2018
10 – 11:30 a.m.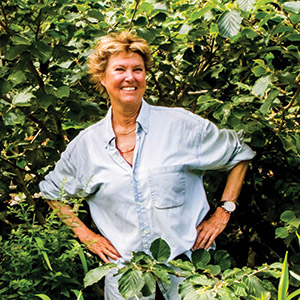 Marsh House | East Hampton, New York
"My garden is my play pen, laboratory and retreat…an unruly, willful version of what I do for my clients." – Edwina von Gal
For Edwina von Gal, a garden is a collaboration with a piece of land about relinquishing, or establishing, just the right amount of control. Her property is a long, five-acre rectangle, with tidal wetland on one side, a former forest on the other, and a vegetable garden along the way. An iconic modernist house sits on stilts in a salt marsh, with a view of Accabonac Harbor. She is re-creating a meadow and restoring the forest, using mowed paths and log walls to define spaces. This calm refuge reflects her twin beliefs: nature is the best landscaper and toxin-free is the new perfect.
About Edwina von Gal
For more than 30 years, Edwina von Gal has created unique landscapes with a focus on simplicity and sustainability. Her collaborators include Frank Gehry and Maya Lin, and she counts Cindy Sherman, Calvin Klein, and Ina Garten among her clients. In 2013 she founded the Perfect Earth Project, a non-profit that promotes toxin-free land maintenance.