Plant Research & Conservation
The New York Botanical Garden is a world leader in plant research and conservation, using traditional and cutting-edge tools to discover, understand, and preserve Earth's vast botanical diversity.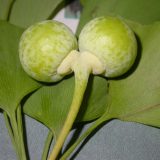 Article in Nature: Gymosperms on the EDGE
Driven by limited resources and a sense of urgency, the prioritization of species for conservation has been a persistent concern in conservation science. Gymnosperms (comprising ginkgo, conifers, cycads, and gnetophytes) are one of the most threatened groups of living organisms.
The authors of this article, including NYBG scientists Drs. Dennis Stevenson and Damon Little, use the Evolutionary Distinct and Globally Endangered (EDGE) method to rank gymnosperm species based on their evolutionary distinctiveness and the extinction risks they face. While this method has been used to to study birds, amphibians, and mammals, this is the first such analysis done on plants, and the results highlight the necessity of using approaches that integrate evolutionary information in conservation science.