Belize Ethnobotany Project
Michael Balick
The Belize Ethnobotany Project was implemented in 1987, with the goal of inventorying and cataloging the flora and ethnobotanical knowledge of that nation. Over two dozen local traditional healers and bushmasters–local experts in forest utilization–have participated in this effort to collect, identify, and study the plants of Belize. The project is led by Michael J. Balick, Ph.D. of The New York Botanical Garden and Rosita Arvigo, D.N. and Gregory Shropshire, D. N., both naprapathic physicians practicing in Belize.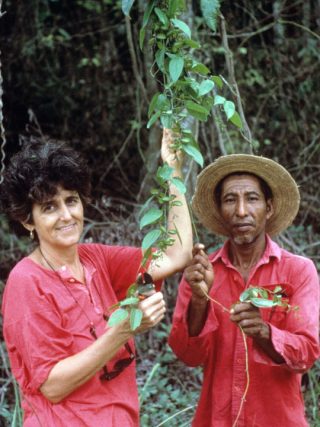 Dr. Rosita Arvigo and Polo Romero collecting Dioscorea fruits in the field.
The results of the project have included the preservation of cultural and traditional knowledge, natural products research through the National Cancer Institute, technology transfer, institutional development, public symposia, post-secondary classes, youth camps, school competitions, educational videos as well as biocultural conservation. During nearly three decades, this program has involved eight governmental and non-governmental organizations in Belize, with over 120 individuals—including 27 staff members of the NYBG—active at some level in the project. Three books on Belize have been published: a primary health care manual, Rainforest Remedies: One Hundred Healing Herbs of Belize (Arvigo and Balick, 1993, second edition, 1998); Checklist of the Vascular Plants of Belize: With Common Names and Uses (Balick, Nee and Atha, 2000), and most recently, Messages from the Gods: A Guide to the Useful Plants of Belize (Balick and Arvigo, 2015). During the fieldwork phase (1987-2000) over 8000 plants were collected, along with information on local uses and common names, representing nearly 20% of the holdings of the Belize Forestry Department Herbarium. The project also helped to promote the conservation of biodiversity, through various local initiatives including the establishment of forest reserves, medicinal plant trails and ethnobotanical gardens.
More information:
Web site: Ethnobotany and Floristics of Belize
NYBG Science Talk Blog Post: Ancient Wisdom, Modern Practices: Three Decades of Studying the Plants and People of Belize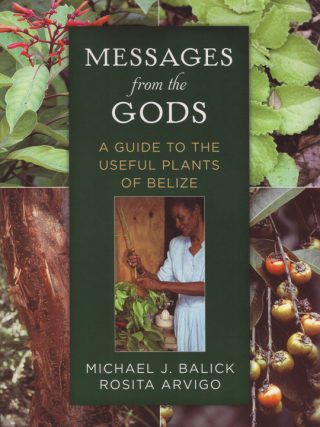 Messages from the Gods, published by The New York Botanical Garden Press/Oxford University Press.