Conservation Assessment of Intertidal Vascular Plants of the Hudson River Estuary
Robert F. C. Naczi
The southern portion of New York's Hudson River encompasses a major estuary that extends 150 miles from the mouth of the river at the southern tip of Manhattan, north to the Federal Dam at Troy. This estuary provides habitats for many species of vascular plant species. From a conservation perspective, the most important of these plants are those species that are restricted or nearly restricted to intertidal habitats, those areas that fall between low and high tides. Intertidal plants provide food and shelter for wildlife, stabilize shorelines, and buffer adjacent uplands from the effects of storm surges.
By nature, intertidal plants are rare because their habitats are quite limited in extent. Additionally, these species are important because most occur only in eastern North America, with several restricted to the Northeast. These species face several serious threats to their survival, including pollution, invasive species, and habitat destruction. Not surprisingly, intertidal plants are vulnerable to extinction. Thus, determination of the current status of intertidal plants of the Hudson River is a top priority in conservation of North America's native plants.
Science Talk Blog: Native Plants Summit: At a Crossroads for Native Plants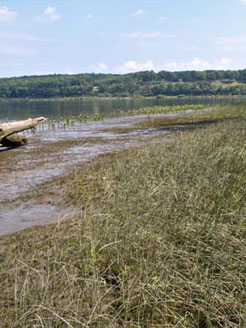 A view of the Hudson River Estuary.