Lichen Conservation Biology
Jessica Allen
My dissertation research focuses on lichen conservation in eastern North America. First, I am using ecological modeling to investigate how coastal and high-elevation lichen species will be impacted by climate change. The regions in which I am working are the Mid-Atlantic coastal plain and the southern Appalachians, two areas of eastern North America that will likely be severely impacted by climate change. The results from these studies paint a fairly dire picture for some portions of lichen diversity in eastern North America. The next step is to gain a better understanding the population genetics of these species, especially their genetic diversity and dispersal ability, and use these data to more thoroughly assess their conservation status. I chose to investigate the population genetics of the rock gnome lichen (Cetradonia linearis), which grows only in the southern Appalachians and is one of two federally listed endangered species of fungi. The results of my dissertation, especially projects that focus on rare and endangered species, will help to shape future conservation policy regarding these unique lichens.
Related project: Lichen biodiversity of the Mid-Atlantic Coastal Plain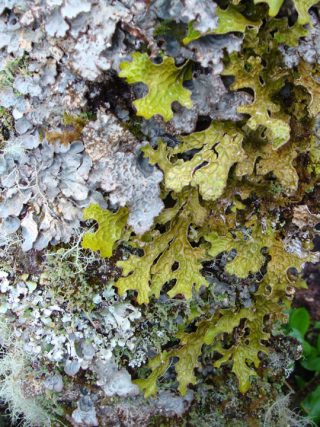 An example of the abundant and diverse lichen communities in the high-elevations of the southern Appalachians. Black Mountains, western North Carolina.