Plants and People of Vanuatu
Michael Balick and Gregory Plunkett
The Vanuatu archipelago, situated in the midst of three significant biodiversity hotspots (New Caledonia, Fiji, and the Solomon Islands), is a global priority for biological and cultural conservation due to its high rate of biotic endemism, the endangerment of its flora and fauna, and the alarming erosion of the traditional knowledge and cultural practices based on this biological diversity. Because of the critical status of these interlinked factors, study and analysis of the flora and traditional uses of Vanuatu's plants, as well as research on the effects of resource use, are urgently needed to promote environmental, social, and cultural sustainability.
Drs. Michael Balick and Gregory Plunkett are leading a conservation project in Vanuatu to help stem biocultural losses and environmental degradation, as well as improve human health in Vanuatu, by applying transdisciplinary approaches that integrate the conservation of biological and cultural diversity with improved primary health care. Based on the model that NYBG has carried out successfully in Micronesia and other parts of the tropical world, the project team is preparing publications on plant diversity, distribution, utilization, and conservation for Vanuatu. The project pursues these objectives through collaborative goal-setting and work with regional stakeholders and program partners, in order to build local capacity and empower local people themselves to conserve and use their biological and cultural heritage to improve their quality of life in a sustainable way.
Drs. Plunkett and Balick are working with a diverse group of plant scientists, ethnobotanists, mycologists, cultural specialists, and linguists, to study and preserve plants, fungi, ethnobotanical and ethnomedical knowledge, cultural practices, and plant-related language information of the Pacific islands. The project team has already established agreements and collaborations with representatives of Vanuatu governmental agencies, health care institutions, cultural organizations, and local communities in Tafea Province in Vanuatu.
Major early project activities include working towards the establishment of three community-managed conservation areas in watershed forests in Vanuatu, which not only conserve biodiversity, but also provide urgently-needed clean drinking water for nearly 1000 villagers. Other communities in Vanuatu have already asked for help in setting up these protected watersheds, and at least five additional community-managed conservation areas are planned by 2021.
Funding has been provided by the National Science Foundation, The Christensen Fund, the Critical Ecosystem Partnership Fund, and the National Geographic Society.
Related Project: Plants and People of Micronesia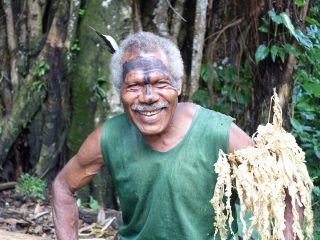 Nalau Wasep, a local expert on traditional knowledge from Tanna Island, Vanuatu.
His decorative armband is made from the aromatic leaves of Euodia hortensis.