Starry Stonewort: Assessing the Threat of an Invasive Freshwater Macroalga in the Northeast
Kenneth G. Karol and Robin Sleith
Freshwater ecosystems are valuable natural resources that are experiencing declines in biodiversity at levels much greater than terrestrial ecosystems. One of the major identified threats to freshwater ecosystems is invasion by exotic species. This project aims to address this threat by conducting timely research and conservation on a freshwater invader. Starry Stonewort (Nitellopsis obtusa) is a recently introduced invasive macro alga that is spreading at an alarming rate across the Northeast, from the Great Lakes, into inland lakes in New York, Michigan, and Wisconsin. Starry Stonewort is replacing native species of aquatic plants and threatening the habitat and food sources of invertebrates, fish and waterfowl. We are aiding conservationists by conducting a survey of 750 lakes and ponds across New York and New England. Each lake is surveyed for Starry Stonewort and native algal species. An important part of this project is environmental advocacy ─ to use the data collected to increase awareness about Starry Stonewort among water quality managers and conservationists, giving leaders information to act where invasions have occurred and take steps to prevent invasions elsewhere.
In the news:
NYBG Science Talk Blog Post: Tracking a Freshwater Invader across New York and New England
Kennebec Journal, Central Maine: Algae Study Draws New York Researchers to Maine
Wall Street Journal: Pond Swimming—Not for the Skittish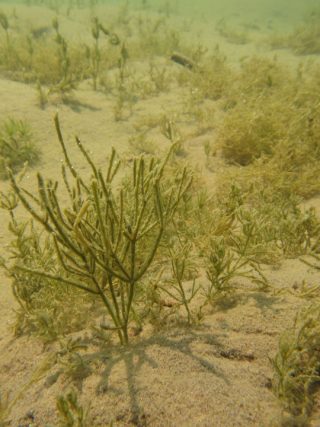 The Starry stonewort, Nitellopsis obtusa. Photo by Paul Skawinski.